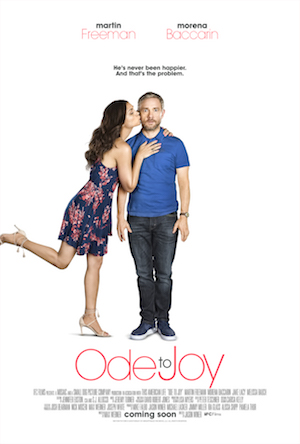 [Rating: Solid Rock Fist Up]
What if a medical condition turned all of a person's happiness into pain, and conditioned them to avoid pleasure for the sake of self-preservation? This is the dilemma that rests at the heart of Ode to Joy, an entirely pleasant rom-com that takes a circuitous route to a familiar destination.
When the film opens, it is during the vow-reading portion of a wedding ceremony, where the bride's brother is doing everything he can not to pass out. This brother, Charlie (Martin Freeman), suffers from cataplexy, a neurological disorder that manifests itself as full-blown paralysis with postural collapse when coming on strong. These attacks can have many different triggers depending on the person, but in Charlie's case, they hit him when he experiences joy. As a result, Charlie has to be very aware of his environment, for he can faint at a moment's notice at the site of random acts of kindness, happy memories, or even wedding ceremonies (the latter to his sister's dismay).
When Charlie meets Francesca (Morena Baccarin) one day in the library where he works, he knows in an instant that she's trouble. Not in the traditional "she's no good" way, no: rather, in the "she's perfect" and therefore hazardous for a joy-triggered cataplexy sufferer kind of way. Certain that Francesca will bring him nothing but happiness, Charlie is thus resolved to nip the relationship in the bud. When Charlie starts dating Francesca's chronically boring co-worker, Bethany (Melissa Rauch), he feels safe in the new relationship's monotony. Yet pain and misery are necessary to keep him conscious, so Charlie doubles-down and blows past "safe" by urging his brother, Cooper (Jake Lacy), to date Francesca, thereby ensuring that he'll never feel entirely happy.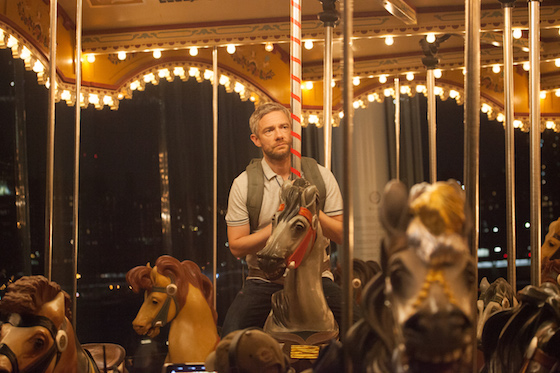 It's an interesting set-up that unpacks the traditional love triangle (or in this case, rhombus) with unconventional aplomb. There's no dancing around the obvious, here, what with the boy-meets-girl click-clack bouncing back and forth between love and hate. No: Charlie and Francesca obviously belong together, and not only does the audience know it, these characters do as well. Charlie's defining character trait is an aversion to happiness, though, so the fun of Ode to Joy is the solving of a seemingly impossible puzzle (mainly, how a person allergic to joy learns to seize it when it's right there for the taking).
Director Jason Winer has a background in television, and the snappy pace and breezy interplay between the film's characters bears this out. The tone of Ode to Joy has to shift fluidly between the staid and the funny, what with Charlie's very serious medical condition and the humorous fodder that it offers up, and Winer never once falters. Much like a T.V. show that has to pack in a full range of emotions in a tight timeframe, Ode to Joy must bounce between opposite ends of the emotional spectrum while maintaining tonal consistency, and Winer seems just the man for the job.
This is a romantic comedy, certainly, but it is also an exploration of the ways people talk themselves out of happiness: with or without cataplexy. There's a great B-plot about Francesca's cancer-stricken aunt, Sylvia (Jane Curtin), and while a side-story about a sick person helping someone embrace life is as played out as any dramatic theme, it carries considerable weight in Ode to Joy. As a character, this could have easily played as false, but the script (and Curtin's marvelous performance) allow it space to sink in roots, giving it the room needed to weave into the primary thrust of the narrative.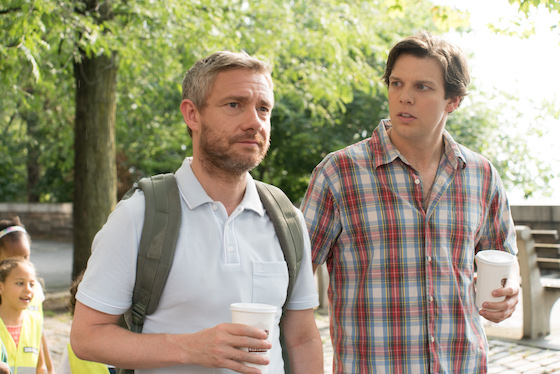 Freeman and Baccarin do great work in the lead roles, and develop a chemistry that feels true to their characters and the journey each is on. Rauch and Lacey are likewise well-cast as Charlie and Frencesca's romantic understudies, fulfilling what is obviously a transitory role while the leads sort out their conflicts and feelings. A scene juxtaposing a live rendition of "Rock Lobster" against a stay-at-home Ken Burns movie night is amongst the film's highlights, and it works because of the fabulous work Rauch and Lacey are doing. The smaller parts aren't quite as well-served vis a vis the casting, however, with Charlie's library co-workers a glaring example.
All told, Ode to Joy is a darn good time, making the most out of a wild premise (as adapted from a "This American Life" segment) without ever veering too far off into mockery or slapstick. The characters are all well drawn, and the journey they go on feels genuine and earned. And while the tone of the movie remains light throughout, it's interested in real emotions, and the ways people both pursue and avoid happiness. There's not much more to Ode to Joy than that, which seems altogether fitting for a film whose entire message is to encourage the enjoyment of everyday pleasures: fainting spells be damned.