Move over Frank Sinatra. Move over George Clooney. There's a new Ocean in town and she has her sights set high for the taking.
Seventeen years after Clooney and his pals robbed Vegas, a new Ocean's film is back and now, taking the lead is Danny Ocean's sister Debbie (Sandra Bullock). In Ocean's 8 (director Gary Ross), which pairs Bullock alongside an uber-talented cast of ladies wanting to get their hands on a priceless necklace worth more than any of them could ever dream of. This caper film is sure to delight fans of the older films, and bring in a new set of fans wanting to catch this star-studded cast rob one of the most famous parties in the world full of high fashion and anxiety-ridden action.
Debbie Ocean has just been released from prison and already has her eyes on getting together a group to help her get a prized necklace into her possession so that her and the others can make money off of it and also in a way, keep the Ocean's family name. Among the group is Lou (Cate Blanchett), Debbie's second in command, Tammy (Sarah Paulson), a former thief now mom with an eBay obsession, Rose Weil (Helena Bonham Carter), a fashion designer with a tax problem, hacker Nine Ball (Rihanna), jewelry maker (Mindy Kaling), pickpocket (Awkwafina), and the target of the heist, Daphne Kluger (Anne Hathaway), an actress who will wear the necklace and through a series of hopefully successful obstacles, be the victim of Ocean's carefully executed plans.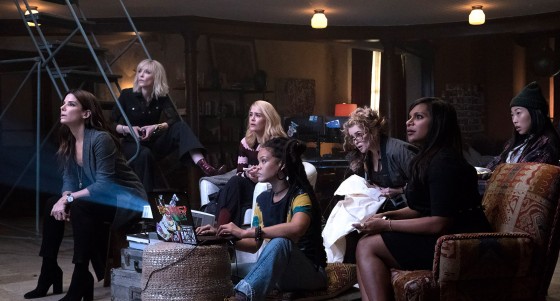 Like the plot to steal the necklace, the film itself is very well executed. There's not a long stretch from Debbie being released from jail to Debbie wanting to get her team together to form the mission at hand. That worked because it left the rest of the time to making plans and then putting them into motion. The scenes at the Met Gala, filled with cameos I either was shocked by or compelled by, only adds a level of fun to this flick. The entire heist sequence is about as fun as you think it's going to be. This isn't as easy as robbing numerous casinos. There is one target and one target only.
Most of my qualms about Ocean's 8 I think just are in the characterizations of some of the cast. Carter's performance is solid but I wish she could do more instead of act frantic the entire time. It seems almost impossible that she could infiltrate Hathaway's character so easily and have her agree to every single aspect, furthering the con. There's many scenes involving James Corden as an insurance investigator that only slow down the latter half of the film and in hindsight, seem so unnecessary, but it does help tie up things in the end, I suppose. I loved the smaller roles of Rihanna, Kaling and Awkwafina (who I still don't know, but after this instantly love) and between Ocean and Lou, there's a breeze of more than just a friendship here. Bullock and Blanchett sometimes channel an inner Carol here and it works.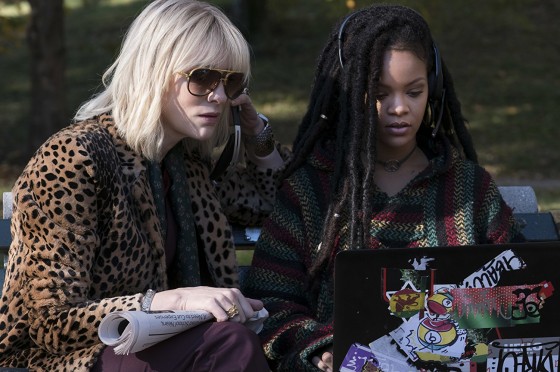 Looking back, this for me was just a damn good film. I go to the movies expecting (hoping even) to watch something worth my time, and Ocean's 8 is just that. Even I'm not the biggest fan of either of the two Ocean's 11 films, but there's something about this new film that makes me happy. I'm pretty confident it's the idea of this cast of women working together in such a perfect way. I've been excited about this film since it was announced and thankfully, after this viewing, I was not disappointed. Ocean's 8 has stolen my heart,