This post originally appears on Lawrence.com.
On the surface, Whiplash and Nightcrawler, two of the year's best and most thrilling movies, don't have anything in common.
One is about a jazz drummer (Miles Teller) at the most prestigious music school in the country and the other is about a weirdo (Jake Gyllenhaal) who trolls police scanners at night so he can get fresh video footage of crime scenes and sell it to local TV stations.
The through line for these characters, however, is their unwavering drive to succeed at any cost, while the outlying stories look at the ways modern society encourages this kind of behavior. In addition, both Whiplash and Nightcrawler are both models of fast-paced, engaging storytelling that leaves a mark.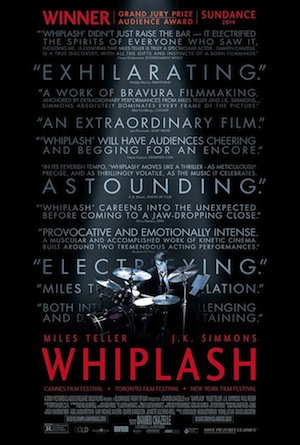 Whiplash: Rock Fist Way Up
In Whiplash, playing at the Tivoli, Glenwood Arts, and AMC Town Square in Kansas City, this obsession to be the best is encouraged — no, required — by abusive music instructor Terence Fletcher, played with unyielding ferocity by J.K. Simmons (a shoo-in for the best supporting actor Oscar come February).
Fletcher is more than a mentor — he's a monster. The moment he walks into a room, everything changes. His students must act on his every whim down to the millisecond or they'll suffer not only a torrent of verbal insults but also a permanent end to their musical dreams. Fletcher's rare approval is like a drug, and once 19-year-old drummer Andrew (Teller) gets a tiny taste of it, he wants more.
Written and directed with confidence by first-timer Damien Chazelle, Whiplash has energy to spare. The music sequences are shot and cut like action scenes. There's blood, sweat, and tears — and the stakes keep mounting.
Even though the film is laser-focused, both Teller and Simmons reveal a remarkable amount of character depth and shading, elevating the clever screenplay to a challenging statement about modern culture.
Whiplash strikes a personal chord with me on many levels, far beyond the specificity of the main character. (I've played drums for 25 years, but without formal training.) No doubt others will see themselves in Andrew. It is absolutely one of the top three best movies of 2014, and it asks a lot of tough questions about what it means to strive for excellence in any field.
Whiplash is 106 minutes and is rated R for strong language, full-on Full Metal Jacket-style put downs, and sexual references.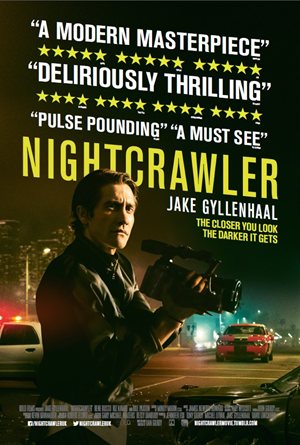 Nightcrawler: Solid Rock Fist Up
As an actor, Jake Gyllenhaal is no stranger to dark obsession. He tracked the Zodiac killer in David Fincher's 2007 masterpiece and his detective in 2013's moody but messy Prisoners was all but consumed by the darkness of his case.
Although Nightcrawler, re-released this weekend and showing now at Southwind Stadium 12, takes place almost entirely at night and revolves around crime scenes and accidents, Gyllenhaal's character isn't actually obsessed with real-life tragedy and carnage. Instead, his predatory creep Lou Bloom has something else on his mind: success. Lou is a product of his generation — a DIY careerist.
We don't learn anything about Lou's background but we can assume that he has been leveraging situations to his advantage for a while. He's polite to a strange degree when he needs to be and forceful when the situation calls for it. He is a student of the Internet.
When he stumbles upon the seamy underbelly of freelance nightside TV news crime footage, he sees an opportunity. Because he's completely unburdened by a conscience and driven by a single-minded desire to succeed, he reaches the top of his "profession" in no time.
Like Chazelle, screenwriter Dan Gilroy is also a first-time director, and he has Oscar-winning cinematographer Robert Elswit (There Will Be Blood) in his corner to make the streets of nocturnal Los Angeles as menacing as possible.
The story has elements of over-the-top TV news satire a la Network, but in addition to Gyllenhaal's committed performance and its dark sense of humor, Nightcrawler also has something interesting to say about desperate young adults growing up in a tough economy — with access to the largest database in the history of the world.
"Nightcrawler" is 117 minutes and is rated R for strong language, bloody images and Gyllenhaal's unnerving and unblinking stare.