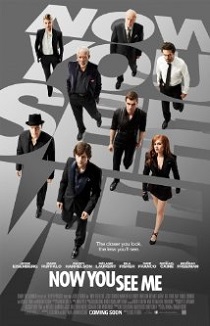 In the new film Now You See Me, Interpol detective Alma Dray (Mélanie Laurent) tells her partner that sometimes logic won't solve the puzzle. Sometimes it takes a leap of faith.
If you can head this advice, then you might really enjoy Now You See Me.
Director Louis Letterier is more infamous than famous for such films as The Transporter and The Transporter II and the abysmal remake of Clash of the Titans.
In Now You See Me, Letterier gives us the Four Hoursemen, four high powered Las Vegas magicians, whose populist leanings hint of Robin Hood. When these four mischief-makers steal and redistribute 3 million euros from a Paris vault, FBI agent Dylan Rhodes (Mark Ruffalo) is called in to investigate.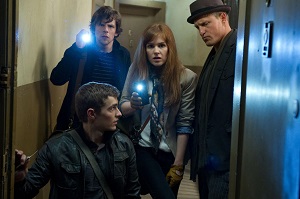 The cast is incredible and includes Jesse Eisenberg, Mark Ruffalo, Woody Harrelson, new comers Isla Fisher and Dave Franco, indie starlet Mélanie Laurent, and the ever consistent Morgan Freeman and Michael Caine.
Because of the large ensemble cast a number of the players are underused. Michael Caine's character, millionaire financier Arthur Tressler, serves a functional role and is quickly discarded once the plot has no more use for him.
Each of the horsemen gets a small exposé, in which they get to show off various skills or talents. As in any of the X-Men films, each magician has a unique set of "powers" which are employed at specific times appropriate to the situation at hand. None has quite enough screen time to develop much character. This is most notable later in Now You See Me, when the horsemen, nearing the completion of their magical heist, attempt to connect on an emotional level.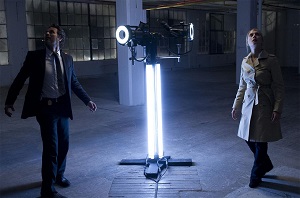 Mark Ruffalo often plays thinking characters such as scientists or detectives, and he is well cast as Agent Rhodes. Ruffalo is able to deftly portray the frustration that his character feels since Rhodes is not only trying to solve a crime, but figure out how magicians do their tricks.
Ruffalo's on screen relationship with Mélanie Laurent is less satisfying. Their romantic subplot seems like an afterthought, which is only there because it should be. Sparks don't so much fly as limp along obediently.
Though character development is rushed and the plot develops sizable holes if you look at too closely, Now You See Me still offers some early summer fun. If you can set logic aside and just take a leap of faith, you might just find a little magic here.