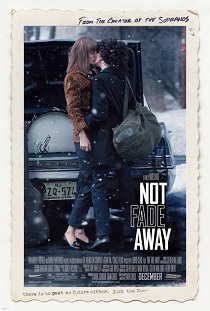 At first glance, it may seem easy to dismiss writer/director David Chase's new film Not Fade Away as an amiable, rambling coming-of-age story with a cool retro soundtrack. But Chase has far loftier goals in mind with his semi-autobiographical first feature. After all, the creator of TV's hallowed The Sopranos is known for long-form stories rich in thematic detail.
Not Fade Away opens with Mick Jagger and Keith Richards swapping American blues records on the subway and ends with a young girl go-go dancing in the streets, contemplating  whether rock n' roll will end up being more influential than the invention of the atomic bomb. In between, it tells the richly detailed story of a group of dreamers from New Jersey in the 1960s from a band "you've never heard of."
In other words, Chase announces right up front that this won't be the typical musician biopic that profiles another case of musical brilliance. No, Not Fade Away is about concepts that are far more relatable—inspiration, hope, and ordinary yearning. And it gets deep into both the attraction and significance of rock 'n roll, which is no small feat.
Amidst the backdrop of radical social change, Italian-American teenager Douglas Damiano (John Magaro) discovers his identity when British bands like The Beatles and the Rolling Stones start making waves in America and he joins a local garage band. These groundbreaking groups were reinterpreting American blues and bringing their revved-up, white version of it back to our shores. This may seem like a minor detail to another movie, but Not Fade Away is as much about cultural adoption and posturing as it is about the growing generational divide.
Doug's father (James Gandolfini) doesn't understand why his son is growing his hair out and wearing weird clothes, just as he doesn't see why Dr. King's march on Washington is such a big deal. As Douglas grows more confident in his identity, he pushes buttons just to get a rise out of his Dad, which is pretty easy to do. The balls-on accurate depiction of Doug and his friends aping these styles and their varying degrees of interest in understanding them is another key detail that makes Not Fade Away special. Chase isn't afraid to show Doug in an unsympathetic light, so it's telling that the relationship that develops between he and his father through small, subtle moments is the most moving one in the film.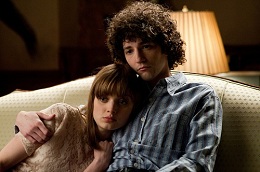 As the band gains in popularity, Doug begins dating his high-school crush Grace (Bella Heathcote), who is well-off and way out of his league. (Don't underestimate the instant "cool" factor of playing in a band.) Her sister (Dominique McElligott) wants to be a painter, but may be more interested in all the trappings of bohemia and drugs. Each of these characters have definite arcs and are representational of certain trends/attitudes, but they are patiently drawn and feel absolutely real.
Not Fade Away is also the rare film where characters actually consume art and discuss how art is created. There's a terrific scene with Doug's band The Twylight Zones playing the Stones covering Buddy Holly that's crosscut with the Bo Diddley drum beat. It's part rock-history lesson, part drum-feel instructional, and something subtle and complicated is accomplished in minutes. Later on, Chase's editing gets across a point about how tracks are overdubbed in a recording studio, while advancing character and plot.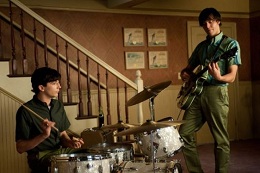 Chase also gets the band dynamic perfectly. Trust me, I've spent over half my life in bands. This isn't some kind of sudden stardom, dreams-come-true story. It's rife with insecurities and fumbling around—the uneasy nature of being in a creative partnership with other people.  Being in a rock band is about waking up to your own potential, not about making it big, and the various band members (chiefly Jack Huston and Will Brill) in Not Fade Away have very different realizations.
This is expressive filmmaking in a minor key. Not Fade Away is not about one person. It's about an era. It profiles the very short, anything-is-possible time between the hopeful dream of rock n' roll when it meant something and the nasty, drug-fueled paranoia that brought it down following the Summer of Love and the Manson murders.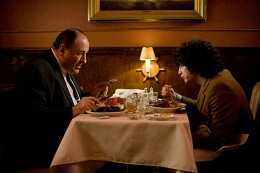 David Chase's movie is lovingly, intricately realized with an insane amount of period detail, cultural touchtones, and of course, great music. These references don't feel like cheap insertions for nostalgia's sake, but essential pieces of the puzzle that color and inform the movie.
Because Not Fade Away is more about intertwining themes than it is about obvious plot and conflict, it has energy—but it's a melancholic energy. It revels in the mystery, appreciation, and ultimately creation of art—from a guy who was empowered and inspired by rock n' roll himself.