[Rating: Rock Fist Way Up]
In theaters, on demand and digital, starting January 22.
While not an official Astron-6 production, fans of the Canadian film company's blend of comedy and VHS exploitation movies will find much to enjoy in writer/director Steven Kostanski's latest, PG: Psycho Goreman .

"Siblings Mimi and Luke unwittingly resurrect an ancient alien overlord who was entombed on Earth millions of years ago after a failed attempt to destroy the universe. They nickname the evil creature Psycho Goreman (or PG for short) and use the magical amulet they discovered to force him to obey their childish whims. It isn't long before PG's reappearance draws the attention of intergalactic friends and foes from across the cosmos and a rogues' gallery of alien combatants converges in small-town suburbia to battle for the fate of the galaxy."

Those familiar with Kostanski's past work, such as 2011's grindhouse absurdity, Father's Day, or the 2016 Lovecraftian John Carpenter homage The Void will know two things about the man's work: he knows how to keep the comedy blackly absurd and things will get messy, if not outright splattery and gooey, and things are no different here.

The use of practical effects and absurd plot developments make this an '80s pastiche instantly familiar to anyone who's ever seen another Canadian sci-fi production, 2015's Turbo Kid. Much like that film, there's a synth-heavy soundtrack (here courtesy of Blitz//Berlin), creatures who are eye-poppingly original in their rubbery low-tech presentation, and feature youngsters up against massive odds as their main characters. Also much like Turbo Kid, Psycho Goreman uses exploding heads, gallons of spraying blood, and hyper-paced dialogue to move this movie along at breakneck speed. In this case, though, there's still time to pause for a musical performance of a song called "Frig Off," which I desperately need to pop up on Spotify, along with the closing credits rap (another thing which PG shares with The Monster Squad).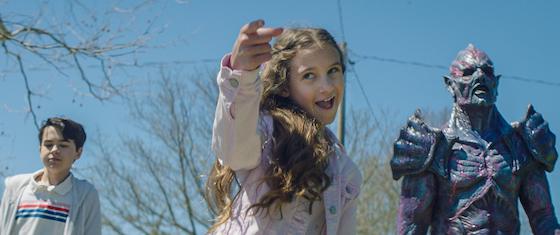 Based on her behavior and the game of Crazyball, wherein the rules are made up and make no sense whatsoever, one can readily assume that the young protagonist Mimi (Nita-Josee Hanna) is based on Bill Watterson's Calvin of Calvin & Hobbes fame, replete with self-centeredness and an imagination of epic proportions. You'll find her either beyond irritable or charmingly precocious, but her confidence and flair endeared her to me immediately. The same goes for the stentorian presentation of Matthew Ninaber as the titular PG, whose bloodthirsty rage simmers hilariously under every single interaction he has, thanks to vocal work from Steven Vlahos.

The rest of the characters essentially exist as counterpoints to the cranked-up Mimi and PG, meaning that they're a little drab when contrasted with the neon-bright performances of Hanna and Vlahos/Ninaber, but thanks to the sheer variety of aliens and humans who pop over the course of Psycho Goreman's hour and a half runtime, at no point do they ever wear out their welcome. Adam Brooks does make an impression as Mimi's father, Greg, but you do end up wishing that Owen Myre as Mimi's brother, Luke, was given more to do than be a literal punching bag for his younger sister.

Kostanski's film also plays with the kind of tropes that led to edgier kid flicks like The Monster Squad becoming cult classics, in that our youthful heroes aren't always likable – Mimi, as stated, is a brat and a half – but are fairly true-to-life in terms of the fact that they're not presented as paragons of innocence simply because they're kids.
Psycho Goreman could have, in the wrong hands, just been another tiresome '80s pastiche of which we've gotten so many variations as of late, but thanks to whip-smart, tongue-in-cheek writing from Steven Kostanski and a bravura performance from Nita-Josee Hanna, it's an absolute blast to watch. Were it not for the fact that it's drenched in violence, blood, and assorted alien fluids, the heart of Psycho Goreman makes it charming enough to watch with your kids.