The dying hitman. The hitman who has to settle one more score before the mob boss let's him go. The hitman who is double-crossed by his boss. The hitman who falls in love with the prostitute.
These are tired cliches in the thriller genre. And Galveston hits on three of the four within the first 20 minutes. So, what does it do to set itself apart from other crime thrillers?
It offers hope. Hope that Roy (Ben Foster) and Raquel (Elle Fanning), can figure out their lives and make the smart decision we never see these cliched characters make.
Roy is a New Orleans hitman, diagnosed with lung cancer. Before cancer can kill him, the mob boss he works for (a rare slimy performance by Beau Bridges) sends him on a job. Roy's instincts should've kicked in when he's told no guns, but he's distracted by his declining health.
It's at this job where Roy and his partner are jumped and Roy's forced to watch his friend die. Before the assailants can kill Roy, he turns the tables on them on one of two beautifully shot action sequences.  Director Mélanie Laurent (Shosanna in Tarantino's Inglourious Basterds) executes her first of two well-shot tracking shots, making great use of the tight space to show Foster's resilience and dominance. It's here when Roy meets Raquel, a naive prostitute in the wrong place at the wrong time, and forces her to accompany him as he escapes town.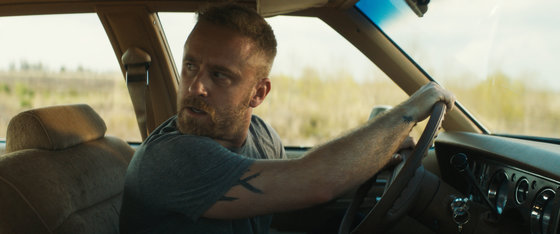 Raquel persuades Roy to make a stop. We're sitting in the car with Roy when we hear a single gunshot, then Raquel emerge with her little sister. She tells Roy she shot the wall, but we later find out that she killer her father, in hopes of offering a better life for herself and her sister. With everyone in tow, he heads to his titular hometown to scheme revenge and redemption.
Hopefully, there are more films in Foster's queue where he plays a badass in Texas. He started off strong with 2016's Hell or High Water. In Galveston, the material again allows him to show his intensity, while reinforcing the fact that he can work with anyone, showcasing here, great chemistry with Fanning. It's not an accident we don't see a smile on Roy until an hour into the film. Once things go bad for Roy, you expect the worst because you know someone like him doesn't have a happy ending to his story.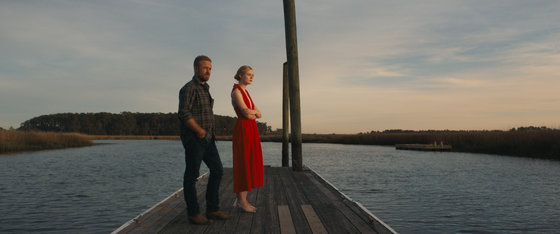 This is not an easy film to watch because you feel for these people. You might not know a hitman or a prostitute, but there's a good chance you know someone with cancer who just wants to live the rest of their life in peace or someone who wants a better life for their family. These identifiable traits make the ending especially brutal.
The film is based off of True Detective creator Nic Pizzolatto's bestselling novel of the same name. There are hints of True Detective's grittiness, but Laurent does a good job of making the film her own. I referenced a tracking shot earlier. There's a second, unbroken shot sequence towards the end of the film that plays off of Roy's desperation and utilizes the surrounding space well. So the film is bookended with great cinematography, but doesn't deliver much in the middle.
Galveston is  in theaters and on demand / Digital HD today.