Millennials need a version of Lassie that isn't wholesome. Instead, a story of a dog exploring the perverted, introverted world it lives in. Ok, maybe this isn't needed, but it's certainly available now Wiener-Dog. Remember Paulie, that movie from 1998 where a parrot gets passed around from owner to owner? It's like that, but with more death.
Wiener-Dog is broken up into four stories and follows the wayward adventures of a dachshund who passes from oddball owner to oddball owner — the world's worst parents, a beleaguered screenwriter, the grownup incarnation of Welcome to the Dollhouse's Dawn Wiener, and and old woman who's so near death, she talks to younger versions of herself about regrets. Everyone's radically dysfunctional lives are all impacted by the pooch.
The lovable dog's first home is with a family dealing with a sick child. The parents, Dina and Danny (Julie Delpy and Tracy Letts) believe the pooch might help their inquisitive son Remi (Keaton Nigel Cooke). However, they learn their blunt parenting styling are no way to raise a dog.
The first owner-to-owner transition is seamless. The little boy gave the dog chocolate and it got sick, so the family decides to put it down. This leads to an incredibly awkward car ride with Dina explaining to Remi how everyone dies, something I'm sure every sick child wants to hear.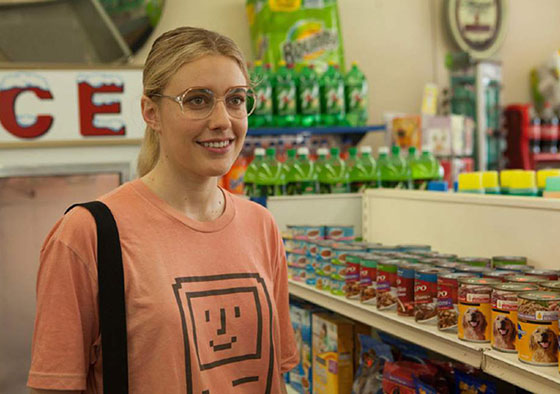 They drop the dog off at the vet and while it sits on the operating table, quietly waiting to be put to sleep, Dawn (Greta Gerwig), a veterinary technician, snatches it and takes it home.
Dawn is my favorite. She runs into an old school friend, maybe bully, Brandon, (Kieran Culkin), and the two are insanely awkward around each other. She doesn't understand his humor, he doesn't care that she might be in love with him. The two have amazing chemistry and at the end of the movie, I wished these two had been more prominently featured.
The dachshund is maybe with Dawn for a week. There's a brief intermission between Gerwig and the next story, featuring Danny DeVito. It felt unnecessary, maybe even borderline lazy by director Todd Solondz because he was able to show how the dog moved from the first family and into Dawn's hands but he couldn't do that with the subsequent stories?
Dave Schmerz (DeVito) is a screenwriter unhappily stuck in a job teaching ungrateful, wanna-be screenwriters. This was my second favorite story. I enjoyed the juxtaposition of DeVito with walking or holding the dachshund, especially when he dresses him up in a bright yellow doggie raincoat. I'm also only really familiar with DeVito from his roles on Taxi and It's Always Sunny in Philadelphia. As Schmerz, he's more serious, subdued, restrained until he finally cracks.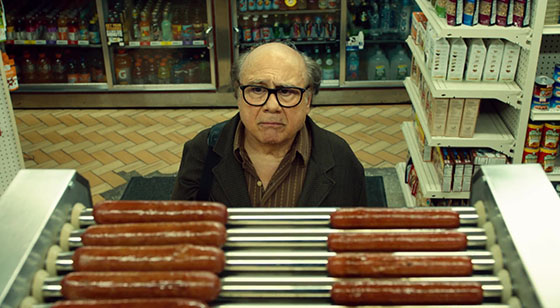 For the fourth story — again with no owner transition — wiener-dog winds up in the home of a woman near death, Nana (Ellen Burstyn). She doesn't care about anyone, She's mean, names the dog cancer, and is short with everyone she comes into contact with. Except younger versions of herself. This story made me think the most because it pokes at that nagging question everyone has, what if? Dozens of younger variations of Nana visit her in a dream, saying her life could have been different if she had done this or that.
At first, you think the connector is this dachshund. But it's not. Death is. Death connects us all and Solondz tells us that through tragic comedy, a wondrously warped look at the absurdity of life and death. I didn't care for the ending. I won't spoil anything, of course, but I'll say if it was suppose to be funny, then the joke fell flat. And the only story I could have really done without was the first one. But Wiener-Dog had me intrigued until the end. And man do I want to see more of Dawn and Brandon.