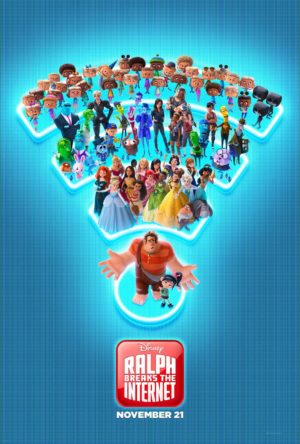 [Rating: Solid Rock Fist Up] 

Despite being a mega corporation with billions of dollars pouring in from various film series, theme parks and product placements, the one thing many haven't realized yet of Disney, is that they own the Thanksgiving movie box office. For the past eight years, a new Disney film has been released over the holidays, making both critical and box office success and creating characters that fans have come to idolize.
For Disney's latest outing Ralph Breaks the Internet, directors Rich Moore and Phil Johnston haven't created a tug but rather more of a nostalgic punch to the heartstrings, alongside a very poignant film about the power of friendship, fragile masculinity, and of course, timely issues surrounding the world wide web. This is Disney's first theatrical sequel in nearly two decades and unlike dial-up, there's no slowing the creative choices this film takes that's fun for young and young at heart.
Now six years after the events of Wreck-It Ralph, lovable wrecker Ralph (John C. Reilly) and sugary sassy Vanellope (Sarah Silverman) have a loving friendship with one another and with their fellow gaming characters. One day, the arcade manager installs what the characters believe is a new game "WiFi" but are warned from traveling to an unknown world that could be dangerous. Suddenly Vanellope's game Sugar Rush is unplugged because of a broken steering wheel in the real world, and all the characters inside are left homeless, that is until Ralph and Vanellope make it their quest to travel through the WiFi to "Ebay" to purchase a new wheel for Sugar Rush and make sure Vanellope isn't homeless.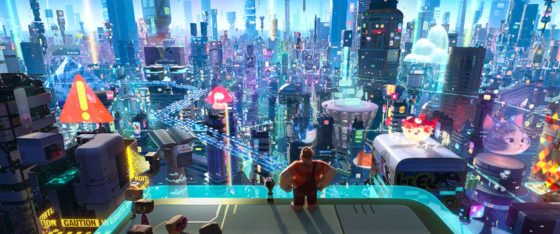 In the world of the internet, Ralph and Vanellope meet a string of interesting new characters. KnowsMore (Disney good luck charm Alan Tudyk), a Google-search-like bookworm; Spamly (Bill Hader) a literal spam guy who helps the duo raise money for their Ebay purchase after they bag an enormous amount; Shank (Gal Gadot), an Internet racer who Vanellope immediately idolizes; and Yesss (Taraji P. Henson), the algorithm of the Internet's video-trend site BuzzzFace, who helps Ralph become an Internet star in the hopes of raising the money they need.
Along the way as Ralph becomes hesitant of what the Internet really has to offer, he starts to lose Vanellope to the fun and thrill of being rewarded with all the new opportunities that the Internet can give.
I myself am a huge fan of Wreck-It Ralph and I think it's one of Disney's best. As a sequel, this is pretty solid, and it helps that more of the themes of friendship are explored. Ralph himself knows that he's a fragile person and that such things as the "comments section" of viral videos hurt him to the point that he clings to Vanellope as his one true friend, and would destroy anything she loved in order to keep her around. He would literally break the Internet for her. There is even that iconic Princess scene from the trailers, where all the former Disney princesses talk to Vanellope about her relationship with Ralph and what she really wants both out of her life and out of her relationship. There's a great follow-up moment that you just have to see to believe.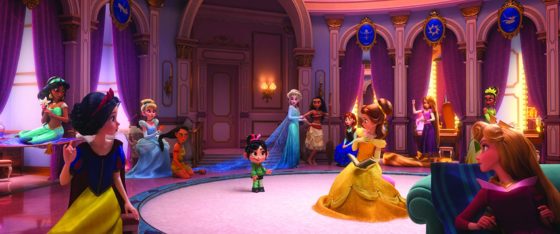 The writers of this movie do a great service to all things Internet really. There are so many fun little moments that tech-savvy people will get and love. There's a feeling too that the writers are even telling us the viewers, that like Ralph we may take our insecurities too hard on the Internet, that we are wrecking ourselves via our technology use. Movie lovers and those who find warm nostalgia in Disney movies will LOVE every single cameo when Vanellope travels to Disney online. And one thing that's always a bonus: Visually, this is just an absolute treat.. The world of the Internet, much like Sugar Rush in the first film is both vibrant and dark, always alive with amazing sites. Animation has come so far in recent years and Disney should take pride in making theirs so detailed, crisp, and clean.
Disney has done it again. Once more for the Thanksgiving holiday, they have provided a feature film that will delight audiences and create trust that Disney is capable of making sequels that live up to their predecessors. Disney is often criticized for using the same types of formulas. Ralph Breaks the Internet seems to realize it, but uses the many Disney tropes and cliches (especially as the princess scene points out: young maiden depending on strong man to save her) to its advantage. It's easier to forget about the familiarity because of how self-aware and fun Ralph Breaks the Internet is. 
And that Disney princess scene (and the follow up scene to it) constitutes probably my favorite moment on film in 2018.