If you are still having nightmares stemming from the 1990 TV mini-series, IT, based on the novel by Stephen King, then good freaking luck with Andy Muschietti's unnerving remake, starring Bill Skarsgård as Pennywise, the Dancing Clown who will haunt your dreams from here on out.
In case you haven't read the book, or haven't seen the original, or maybe you're just in denial that a clown with a balloon can have such a profound and unsettling effect on you, IT is set Derry, Maine circa 1989. We're introduced to the "Losers Club": Bill (Jaeden Lieberher, Midnight Special) and his stutter; Richie (Finn Wolfhard, Stranger Things) the smart ass; Stanley, (Wyatt Oleff, young Star Lord from Guardians of the Galaxy); Mike (Chosen Jacobs), the outsider; Jack (Eddie Kaspbrak), the germaphobe; (Jeremy Ray Taylor), the new kid curious about the weird fuck town he just moved into; and of course Beverly (Sophia Lillis), the girl the entire town assumes is a slut.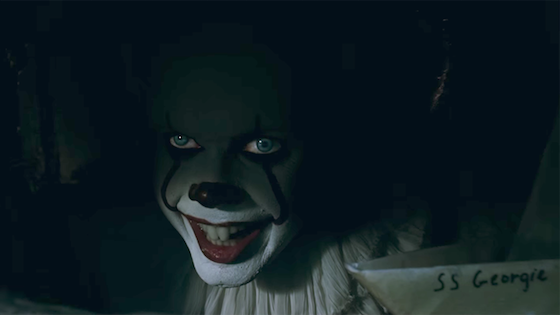 But it all starts with Georgie, Bill's little brother, the wide-eyed little twit who just has to float his God damn boat in the middle of a storm, which leads to a fun chance encounter at a sewer grate with Pennywise (Skarsgård), an evil entity that emerges from a hibernation every 27 years — this time as a scary ass clown — to feed on the fear and innocence of the poor children of Derry. The first 10 minutes of the movie are some of the most unsettling and genuinely frightening moments from a horror movie in recent memory, and it never lets up for the next two hours.
Now, IT is never as good or as intense as that opening ten minutes, but under the direction of Muschietti, IT steers clear of the campy chills the original wreaked havoc with all those years ago, and goes for sheer horror. But IT is a horror movie with a sense of humor. In between Pennywise scaring the hell out of the kids, they say some funny crap, much of which comes out of Wolfhard's mouth. Muschietti also accomplishes something remarkable that really is quite rare in the history of Hollywood. He makes a great Stephen King book a watchable (and terrifying) movie.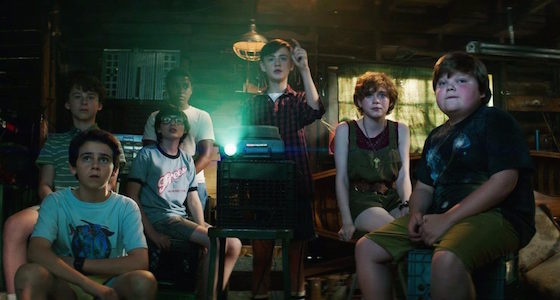 Let's talk about Bill Skarsgård for just a moment because, that's why everyone is going to see this movie. Fucking Pennywise. First of all, yes, he's one of those Skarsgårds. Second, I was never scared of clowns. I mean, I get it, they're creepy. The original IT was a good freaky movie when I was a teenager, but after seeing Skarsgård chew scenery for 2 hours, with his weird drawn out speech and his lips that always look like he's salivating over his food, I get the whole coulrophobia thing. This dude had grown men twisting and cringing in their seats during our screener. Not me, I was Kool and the Gang, but other people were wigging the fuck out.
The biggest flaw (and there really are very few) is like nearly every other movie this year, IT is just too damn long. Clocking in at just about 2 hours and 15 minutes, which is way, way, way too long for a horror movie, there are several scenes that don't feel necessary and a lot of crap that takes us away from the main attraction: Pennywise, the freaky fuck clown that terrorizes these poor kids. The movie easily could have cut about 20 minutes of fat and maybe cranked up the tension in some of the scarier scenes.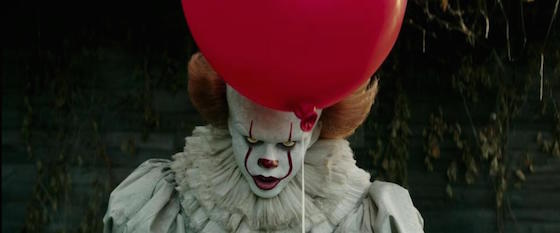 But it works, thanks largely in part to the fact that the kids are all amazing. IT is a coming of age story as much as it is a horror flick. And it does both of them pretty damn well, even if the script spends too much time with the kids individually and not enough time on Pennywise fucking with these kids. Which brings me back to that opening ten. So good. So…. unsettling really is the best word. And there are plenty of bone-chilling moments throughout the movie, but none of them build the suspense the way Pennywise does with little Georgie.
But that's okay. IT….is not perfect, but thanks to some scary as hell imagery, fun performances by the kiddos and a wicked take on Pennywise, IT is a pretty damn good horror flick. I just wish it wasn't so damn long. If you suffer from coulrophobia or Tim Curry's Pennywise still gives you nightmares after all these years, the remake is going to ruin you.