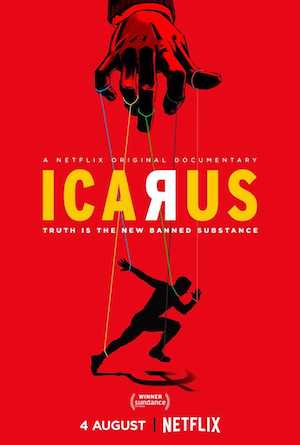 [Rating: Solid Rock Fist Up]

Any documentary filmmaker worth their weight in cinéma vérité will tell you that you never know the story you're going to tell until you're right in the middle of it. If you're lucky enough to have one of the biggest international scandals in sports history unfolding around a person you are interviewing for your movie, you scrap your original intent for the film and just go with it.
That's exactly what happened to playwright/actor/cyclist Bryan Fogel while he was directing his first-person Super Size Me-style doping exposé Icarus, which premiered at Sundance in January and is available now on Netflix. It is a movie that accidentally became an inside account of a story with much larger—and scarier—implications.
From the outset, Fogel is fueled by anger towards Lance Armstrong and other high-profile athletes who have sullied their names and their sports by using performance-enhancing drugs. He enlists Grigory Rodchenkov—a Russian lab director hired to ensure his country's athletes are clean—to devise a doping program that would allow Fogel to pass undetected into a long-distance bike race in the Alps.
Gradually it's revealed that what makes Rodchenkov so good at avoiding detection is that his actual job is to do quite the opposite. The background Fogel provides here is useful as the story spirals out of control, but what's even more useful is the fondness that develops between Fogel and Rodchenkov, who is portrayed as a smiley, dog-loving regular guy, even as he's under investigation by the World Anti-Doping Agency (WADA).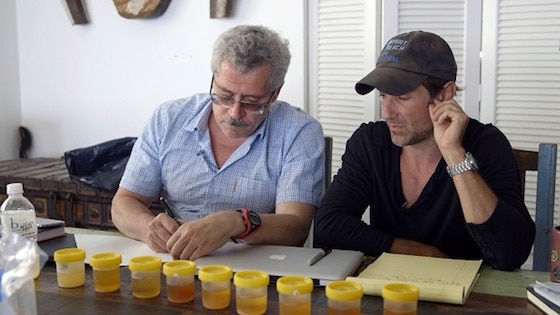 It's a fascinating turn when Fogel becomes loyal to a guy who is key to what he is trying to expose; Rodchenkov has the power to upend not only the present but also the past medal-placement of so many Olympic sports. When the scandal taints the 33 medals Russia won at the 2014 Sochi Winter Olympics and threatens to stop Russia's athletes from competing in Rio in 2016, the pressure and danger for Rodchenkov—who has become a whistleblower—are immense.
Fogel wisely pivots his documentary because he's in the enviable position of holding innumerable pieces of evidence to support the accusations of a Russian state-run doping conspiracy. Meanwhile, Icarus also straddles the line as a human-interest tale of a man trying to do the right thing. When the storyteller becomes part of the story (as filmmaker Laura Poitras did in the Oscar-winning Edward Snowden doc Citizenfour), it's up to the storyteller to give the audience the same sense of drama they experienced as it unfolded. Through news footage, you-are-there conversations with a candid Rodchenkov, and his own sense of unease at the danger of the situation, Fogel gives Icarus the urgency it needs.
On the surface, Icarus is about a sports scandal that you likely heard about more than a year ago. What you may not remember is exactly how deep the revelations went—and what was done (or not done) about them. The answer to those questions, especially in the context of our current president's growing Russian scandal, are downright chilling.
All of this makes Icarus a frighteningly relevant movie that may go a long way toward explaining the danger of any state propaganda machine, whether it targets medals or more.
This review is part of Eric Melin's "LM Screen" column that appears in the summer 2017 edition of Lawrence Magazine.