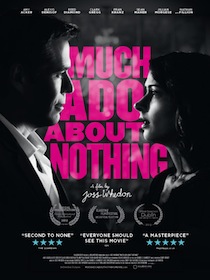 As any of his blindly devoted fans will tell you, Joss Whedon is an excellent writer. He is a particularly deft writer of clever dialogue. So it is understandable that Joss Whedon would be drawn to William Shakespeare's Much Ado About Nothing, a wicked farce with some of Shakespeare's funniest and most scathing dialogue.
By turning the script over to Shakespeare, Whedon's role becomes that of director only, which exposes his flaws as a visual storyteller.
Shakespeare is pretty flexible. From Romeo+Juliet to 10 Things I Hate About You, Shakespeare's works are ripe for contemporary interpretations and modern updates. Shakespeare reveled in the tawdry and the absurd so Heath Ledger's football field serenade or Harold Perrineau's lipsticked Mercutio fit well.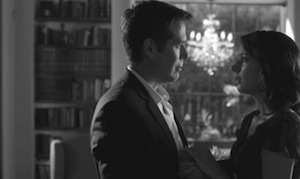 The idea of a modern take on Much Ado About Nothing itself is clever, but there is no visual coherence to Joss Whedon's decisions. His references to various time periods, the art direction, the lighting, the use of camera angles, and his incredibly misguided choice to exhibit the film in black and white all distract from the power of Shakespeare's play.
I'll focus for a moment on the time period in which Whedon places the characters. The men, either noblemen or politicians, wear suits. This, along with the black and white image and the jazz-ish music that Whedon has composed, seems to place our characters in the 1950s or early 60s. A mixture of Mad Men and Jack Kerouac, these characters constantly refill their highball glasses from crystal decanters.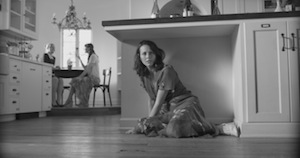 This would seem an interesting choice if it weren't for the fact that the women are dressed in contemporary clothing, most often flowing summer wear, and everyone has modern technology including surveillance cameras and smartphones. Instead of lending a sense of timelessness, it just looks like a sloppy, low-budget and very amateurish production.
Those who know Whedon's work will recognize the cast he brings along with him, and for the most part each is up to the challenge. Amy Acker, whom I have rarely appreciated in her previous outings, does a fantastic job as the outspoken and intelligent Beatrice. Alexis Denisof is good as Benedick, but often his more humorous moments are played as slapstick, though Denisof seems less suited to physical comedy.
Fran Kranz, as the love-struck Claudio, has the most difficult emotional distance to cover. Claudio must move from in love to heartbroken to enraged to defeated and finally to elated. This is a huge range and Kranz tackles it deftly.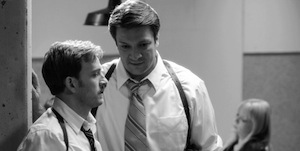 The biggest misstep as far as cast comes from Nathan Fillion as Dogberry. I could not quite tell whether it was a casting error, poor direction, or both, but for a character who has some of the funnier lines in Much Ado About Nothing, Fillion almost always falls flat.
In spite of the script and the onscreen talent, Joss Whedon gives us a disappointing film. The amateurish framing choices are far more suited to television from the 1990s than the big screen, and his direction of the cast belongs in a local black box not a movie theater.
Had Much Ado About Nothing come from a young director just beginning their career, it would seem an exciting, yet flawed introduction. Coming from one of the biggest and most established directors of our time, it seems stupid.