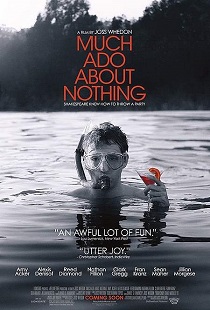 Swaddled in the good graces of its literary source, Joss Whedon's version of Much Ado About Nothing works in spite of itself.  Whedon shot this black and white adaptation in just twelve days, and cast actors well known to fans of Firefly, Buffy, and The Avengers, making it a veritable Whedon reunion.  And while the actors certainly seem comfortable with the setting and each other, the snap of Shakespeare's dialogue is regrettably absent in their exchanges, forcing many of the movie's best scenes to fend for themselves.  The result is somewhat uneven, for while the joy and humor of the story cover up most of the blemishes, the nagging promise of what might have been keeps this adaptation from really taking off.
Early on, Whedon does his best, and mostly succeeds, for he not only nails the transition of the time period into a modern, suburban setting, the director also accomplishes the unenviable chore of introducing eight very important, distinct characters in something like five minutes.  There's the returning war hero, Don Pedro (Reed Diamond), his right hand man, Claudio (Fran Kraz), and Claudio's best friend, the eternal bachelor, Benedick (Alexis Denisof).  Don Pedro is also traveling with his treacherous brother, Don John (Sean Maher), who has nothing but mischief and treachery in his heart when the group arrives at the estate of Leonato (Clark Gregg), whose daughter, Hero (Jillian Morgese), Claudio fancies.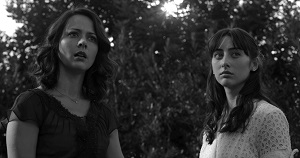 While the dynamics of Don Pedro and Leonato's schemes to get the young lovers together work well enough in this adaptation, there's a spark missing from the performances that only comes from actors who have rehearsed, nay, lived this play front to back.  Although every member of the cast is a consummate professional, and delivers each line perfectly, the rushed nature of the production is evident in many of the scenes.  On the surface, twelve days doesn't seem like a lot of time to get a large cast clicking, and in a Shakespeare rhythm: Whedon's Much Ado About Nothing bearing much of this assumption out.
Still, credit should be given to Amy Acker for rising above these hurdles, for in her Beatrice, the film has its anchor.  Scholars and Shakespeare fans have long been in agreement that Benedick and Beatrice's B-plot is the far more interesting love story of Much Ado About Nothing, and Ms. Acker squeezes every drop of delicious spite from her scenes to again prove this to be true.  Yet much of this good work is off-set by Denisof's turn as Benedick, who seems to be on the verge of a Xanax overdose during the first half of the picture.  This contrast is fairly apt in retrospect, however, for much like the movie as a whole, the dynamics of this well-written relationship are soured by actors who clearly weren't given enough time to familiarize themselves with the material.  Acker may have nailed it, yet Denisof clearly needed more time, and when dealing with Shakespeare, halfway good is about as useful as a bridge halfway built.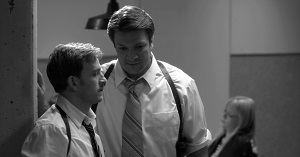 The film is saved by the creativity of this very same cast, however, and does seem to benefit from the familiarity these people have with each other and their director.  Although adding or changing dialogue would be tantamount to literary treason, there's nothing prohibiting a filmmaker from inserting a silent fist-bump or wink if the time seems right.  Whedon and his cast take ample advantage of such opportunities, and definitely add a unique flavor to the Shakespeare standard that benefits the picture.  And as a modern re-telling of a classic Shakespeare piece, it certainly hits all the right marks, and capably brings a fairly complex and involved plot to life whilst losing none of the original play's inventive flair.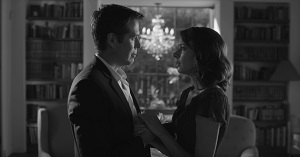 Apparently Much Ado About Nothing is something of a pet project for Whedon, who has wanted to make a movie version of this play for years.  The story goes that Whedon was under orders to take a break after filming on The Avengers had wrapped, and rather than submit to a vacation, the director cobbled his dream together in just twelve short days using his own house as a set, and his friends as the cast.  Nothing if not a skilled, talented filmmaker, Joss Whedon should be given credit for making one hell of an adaptation in so short a period.  Yet had the man taken the time to do it right, and committed the full weight of a standard picture's pre-production, planning, and rehearsal schedule, it might very well have been something special.
And that's about where this one stands, for with a Minor Rock Fist Up, this reviewer can unequivocally state that Whedon's Much Ado About Nothing is good, and worth seeing.  Indeed, since it was the opening night film of this year's Seattle International Film Festival, many already have.  A number of people in attendance that evening said they laughed the loudest during the physical comedy bits: the pratfalls, the tumbles, and the trips.  Yet in this reviewer's humble opinion, if a bit more time had been spent preparing the dialogue exchanges and the other scenes leading up to them, these laughs might well have been purchased at a price far less cheap.