We are bombarded by moving images in every facet of our lives. There are video screens everywhere. The way in which audio and video are cut together in ads, TV shows, and online marketing these days has created a contemporary film language that's like shorthand to us. It takes very little effort on our part to process the intent and meaning of a 30-second commercial crammed full of quick cuts, layers of sounds, special effects and onscreen titles.
That's partially why writer/director Terrence Malick's new movie "The Tree of Life" feels so fresh and exciting and timeless at the same time. He's not interested in putting film together in that way. Not even close.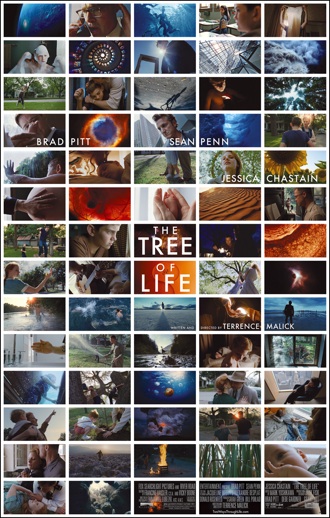 Malick is known for movies with beautiful magic-hour cinematography, poetic narration, and a serene pace that encourages contemplation. Films like "Days of Heaven," "The Thin Red Line," "Badlands," and "The New World" affect your mood. They are transportive. They are not passive viewing experiences. They take you over.
"The Tree of Life" has these same qualities, but it's also Malick's most personal and adventurous movie to date.
Simply stating that the movie is nonlinear isn't enough. This is challenging, breathtaking, pretentious, and inspired filmmaking that pushes the boundaries of conventional storytelling to its breaking point. Above all, "The Tree of Life" is overflowing with truth — which is amazing considering that Malick favors a magical kind of  aesthetic beauty over gritty realism.
The film opens in complete silence with a glowing orange light. Is it the Creator? It isn't too long before we realize we are witnessing the birth and evolution of the universe, from bacteria to dinosaurs to mankind. Malick's boldness comes from the fact that very little forward plot movement is established before these long passages are introduced. Instead, open-ended existential questions are posed by young boy named Jack O'Brien (Hunter McCracken) in voice-over.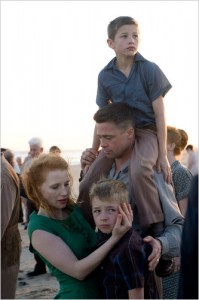 The main narrative thrust concerns Jack, now a well-off but unhappy architect played by Sean Penn, who spends most of his screen time contemplating his formative years in 1950s Waco, Texas while surrounded by threatening cityscapes.
Director of Photography Emmanuel Lubezki shoots the flashback scenes of Jack's family with a camera that never stops moving to underscore his restlessness. In stark contrast to the city, Jack's childhood is wide open, populated by trees, grass, sunlight, and laughter.
Brad Pitt is Jack's taskmaster of a father. He's also a failed musician trying to get rich by filing patent after patent for various inventions. He and his wife (played by Jessica Chastain) provide an idyllic household in which to raise their three sons, who are equal parts mischievous and warmhearted.
This portion of the film, interweaved throughout a much bigger universal picture, is the closest thing resembling a straightforward plot. These sequences unfold in an unforced, tranquil way rather than with the hurry of most modern filmmaking today. They allow plenty of time for pondering the big cosmic questions that are laid out on the table.
Rather than focusing on the traditional conflict/resolution pattern of most movies, Malick focuses on smaller moments — evocative slices of life that add up to a more complete picture. It feels like you are eavesdropping on the family, interpreting every pained look and unspoken feeling between parents and children.
Carefully observed in exquisite detail, this part of "The Tree of Life" seems at least partially drawn from the famously reclusive director's own childhood in Waco. It also roots the audience emotionally, even as we begin to realize that it amounts to one tiny leaf in the grand scheme of the film's ecosystem.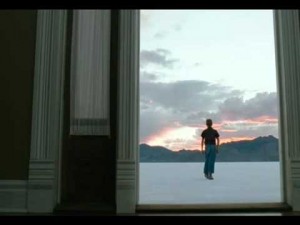 The themes played out in the microcosm of the O'Briens' story are reflected in the many transgressive and visually stunning scenes that dominate in the first 30 minutes of "The Tree of Life," although you may not realize it until the movie has ended.
Two and a half hours later, the entire experience of "The Tree of Life" begins to take shape. The movie exists in my mind as hundreds of memorable snapshots, each one illuminating a different aspect of our existence, from the highest level to the tiniest of details.
If you love movies, you owe it to yourself to see this in the theater on the big screen where there are no pause buttons or distractions. "The Tree of Life" is a true cinematic experience. Having seen the film only once, I'm aching to return and see how it affects me again.
Above is a sequence form the movie by visual effects genius Douglas Trumbull, who Malick recruited to visualize the cosmos WITHOUT USING ANY CGI WHATSOEVER. Instead, he and his team used chemicals, paint, fluorescent dyes, smoke, liquids, CO2, flares, spin dishes, fluid dynamics, lighting and high speed photography. (via Cinematography.com)