Opening this Friday is a film about two princes of a legendary kingdom. The older brother, heir to the throne, is arrogant and proud, the younger is manipulative and jealous. Though the father tries to love each equally, his blind love for the older child leads to an error in judgment, and ultimately the older son's banishment from the kingdom.
Sounds like something that Director Kenneth Branagh and his Shakespearian repertoire should have no problem tackling. Oh and it just happens to be "Thor," Paramount and Marvel's latest big superhero offering.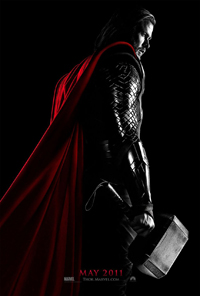 I should let you know that, as with most superhero fare, I went into "Thor" with low expectations. Though Branagh has shown himself to be a capable director at times his work can be hit or miss. For every "Henry V" there's a "Frankenstein," but Branagh does justice to the comic book superhero genre, and gives us more story and character than we've come to expect from such frivolous summer offerings.
The movie opens with scientist Jane Foster (Natalie Portman), and her team studying strange atmospheric phenomenon in the American Southwest. It turns out what she's studying is a bridge from the world of Asgard, which leads to her discovery of the banished Thor (Chris Hemsworth).
We find out through a flashback that Thor was banished by his father, Odin (Anthony Hopkins), for storming into the world of the Frost Giants in retaliation for an attack on Asgard. Thor is stripped of his powers and his mighty hammer, and sent to Earth. There he must learn humility and patience to go along with his strength and courage.
On Earth there is a budding romance between Foster and Thor, though thankfully for the most part the scientist seems more interested in Thor as a subject for her research, and Thor's focus stays on regaining his powers.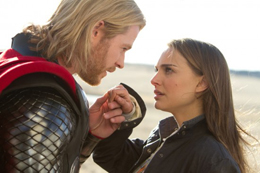 Considering Portman's gifts as an actress, she is almost criminally underused, but at least she is more than just a fawning admirer of this blond and bearded warrior.
The film works best when the story stays on the sibling rivalry between Thor and Loki (Tom Hiddleston). Hiddleston gives the most compelling and complete performance in "Thor." Loki is playful, mischievous, jealous and evil. There is a complexity to Loki that is surprising in a comic book movie. Even as the movie comes to its conclusion the viewer ponders Loki's motivation, which illustrates a remarkable depth given to a character that wears a cape and horned helmet.
The costumes and colors used in the film are rich and satisfying, and the more practical the set, the better it comes across. The computer-generated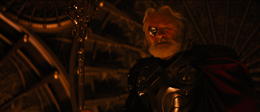 worlds often look fanciful and fake, and though I like 3D when it is used subtly, I could see no reason to pay the extra money for a 3D screening.
There are a few big action sequences, but they seem more like requisite afterthoughts, which was fine by me, since I wanted to see more interaction between the various characters anyway.
The story doesn't break any new ground, but it's simple, well executed and, for the most part, believable. There are even a couple of nice twist and turns, though nothing too challenging. For a film that was created to be watched by fanboys and families while munching popcorn or slurping sodas, "Thor" gives us more than expected, and was a pleasant surprise.