Matthew Lessner's new film and first feature, "The Woods," envisions the fall of the current society and creation of a new one, helmed by the a group of misguided and inept twenty-somethings.
Some films march quickly through their paces, hit their plot points, allow their characters to change through fast cuts and dialogue driven action sequences. I thoroughly enjoy the quick laugh, the exciting and well-composed fight scene, the tension just before the scare, but I feel stifled by an increasingly limited film vocabulary.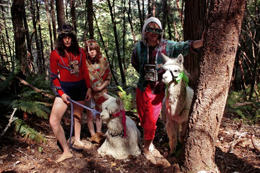 This is what we, as American consumers of film, have come to expect from our contemporary cinematic offerings, but there was a time in our recent past when a film could meander and slowly unfold. Films, which were built more on tone, composition and pacing, allowed the viewer to explore without a specific destination in mind.
Luckily, for me, there is the occasional film, which is always relegated to the Indie world or festival circuit, which appears and embraces the medium with a fresh perspective and an old soul. "The Woods" by writer/director Matthew Lessner, is such a film.
"The Woods" follows a group of post-grads as they start their pseudo-revolution. They move into the woods, adjacent to but not apart from society. The critique of their parents'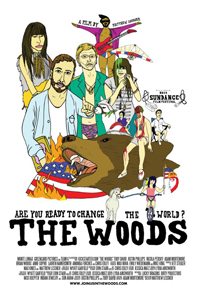 failed revolutionary tendencies, as they moved from hippies to yuppies, keeps this new guard of twenty-somethings from fully embracing the free-loving, mud-covered lifestyle of their parents' past.
Driven by an ideology that often looks more like an ad for Starburst fruit chews than guerrilla insurgence, these youngsters simply move the comforts of modern life into the woods, where they make letterhead, create wikipedia pages, and update tumblr sites to promote their dissent from the current system.
It's all a great time, until the actual society around them falls, leaving them stranded and alone.
If it sounds silly or somewhat contrived, well it sort of is, but "The Woods" isn't a plot driven piece. Lessner seems more concerned with tone and character.
Daniel (Toby David), the self-proclaimed leader of the group, often spouts off small snippets of incendiary claptrap, while the bored onlookers pass around soft pretzels and play Virtual Boy. Dean (Justin Phillips), Daniel's sidekick and alter ego, is supportive, but slowly becomes the center of this group of Tweens as the real revolution catches up to them.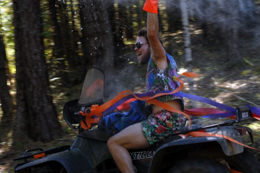 "The Woods" focus on place and tone is its greatest strength. The beautifully composed nature shots from cinematographer Wyatt Garfield, the unexplained hieroglyphs that punctuate the film, the droney pop music of Lydia Ainsworth, all of these elements come together around Lessner's direction to create an immersive mood that surrounds the viewer for the film's 90 some minutes.
Lessner offers critique of the apathy and misguided theoretical counter-cultural grandstanding of the current youth culture, but at the same time he seems to embrace its sheer moxy and wonderful oddness. It's as if Lessner wants to warn us against building an ideology that stems from the consumption of Capri Sun and name brand snack food, while at the same time telling us just how delicious Capri Sun is.
If you're looking for a movie that doesn't give you any easy answers and feels like one of the more interesting nature hikes you could take, then I would encourage you to get lost in "The Woods" for a while.
If you're in New York at the end of June check out the NY premiere at BAMcinemaFest. Otherwise follow the film's facebook page for future screening updates.