It's unlikely that there's any single question bigger than whether or not there is a God. Uncountable amounts of philosophers and artists have pondered the question for as long as questions have been pondered, and we're still no closer to definitive proof for either outcome.
As such, a film could do much worse than center itself around a question of faith – something that The Rite, out today, does.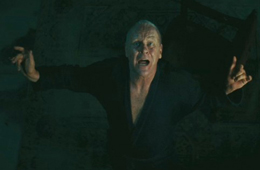 It's about a recent Seminary graduate, Michael (Colin O'Donoghue), who only pursued the vocation because of pressure from his father.
He himself has doubts about a creator, and nearly leaves the church before being sent to Rome to learn how to perform exorcisms – apparently a practice that's experienced renewed interest in recent years.
Doubtful of demonic possession, Michael is assigned to follow and learn from Father Lucas (Anthony Hopkins) as he pursues the dubious practice throughout Rome.
The movie is being advertised as another exorcism horror – currently a hot enough topic at the box office – but starts of much more promising. It doesn't go for many thrills, and is more concerned with exploring Michael's faith, or lack thereof. And throughout the film, it's fairly clear that the script's focused on this subject over horror pratfalls that you would expect from the marketing.
That's heartening to see, especially at a time when Big Studio Horror fare almost never aspires to anything other than a cheap thrill. But despite the story's best intentions, almost everything goes wrong. Yes, It's concentrating on Michael's issues with religion, but in a totally uninteresting way – it asks whether or not there's a God, but never provides any real reasons to doubt that there is one.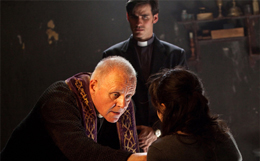 Don't get me wrong, I'm an adamant agnostic; but this film does nothing to resemble any real person's struggle with religion. It's clear from the beginning of the film – in this universe, God exists, and there's no evidence that would suggest otherwise. That's not necessarily a bad thing, but it makes it difficult to associate with the protagonist, who in this world is blind moron for not falling in step with the Catholic belief. If the movie wanted to make something of exploring its eternal question – is there a God? – then it could have done a lot more to make it a legitimate question. Instead, it's barely question. There's a god, and there's a protagonist who's just too fucking stupid to see it.
It doesn't help that that O'Donoghue, as the freshly graduated priest, is totally absent in his performance. The only thing he does with much skill in the film is look very handsome. Hopkins tries to have fun as the manic pixie exorcist, but he's hardly putting any effort into it. There are some solid character actors in the film (Ciaran Hinds and Toby Jones, both priests), but they don't have enough to do with the film to be able to help out.
Of course, I'd be willing to eat all of these words if The Rite paid off as a horror film, but it never comes close. A couple of cool-looking possession moments come into play, but everything else in the film is a standard cheap thrill. You know – the score dies down and the shot becomes still. You can't be scared when you know someone is about to jump out at you. The few moments I twitched in the film were because of the easily-frightened older woman next to me screaming "OH GOD!"
It's refreshing that this film wasn't trying to be less scary and more existential, but intention alone isn't enough. Poor screenwriting, little acting, weirdly banal humor and a lack of tension keep The Rite from being a tenth of the film it aspires to be.