With a contentious political landscape and an election just ahead that looks to be one of the more divisive we've had in recent memory, viewers should be primed for a compelling political drama, chock full of backroom deals, scandal and intrigue.
From director George Clooney, "The Ides of March" follows Stephen (Ryan Gosling), an ambitious young assistant campaign manager, and his bid to help his candidate Mike Morris (Clooney) win the White House. Along the way the will of this young idealist is tested through political opposition, intra-campaign adversaries, and personal scandal.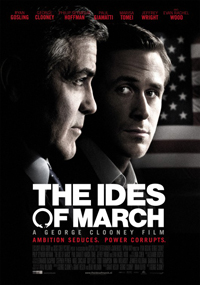 The themes within "Ides" crop up in most political dramas. We get a young idealist who must come to grips with political realities that don't allow for idealism. Stephen must time and again find ways of justifying compromise, while trying to maintain his integrity and his beliefs, which motivated him to sign on to the campaign.
Power and its corrupting influence also play a dominant role throughout the film. As Stephen makes various discoveries concerning his candidate's dealings, he is consistently put in positions of power or powerlessness, and we watch how it affects and consumes him.
Clooney is an actor's director. He places his emphasis on performances instead of controlled visuals and framing to tell his story. Often his shot choice seems ill-suited to the emotional content of the moment.
In one particular scene of developing emotional intimacy between Stephen and Molly (Evan Rachel Wood), a young intern, we are shouldered out of the moment through a series of over-the-shoulder shots. Instead of feeling like a conscious decision to keep the viewer slightly out of the exchange, the framing feels like an afterthought.
Luckily the script by Clooney, Grant Heslov, and Beau Willimon is smart, and the cast that Clooney pulls in is a powerhouse. Veterans Philip Seymour Hoffman, as campaign manger Paul Zara; Paul Giamatti, as a rival campaign manager Tom Duffy; and Marisa Tomei, as New York Times reporter Ida Horowicz, all create excellent and well-developed characters.
Ryan Gosling continues his streak of successes as he again turns in a masterful performance, and continues to give me hope that he is on a trajectory similar to a young Robert De Niro or Dustin Hoffman, who were for so long able to balance their popular roles against their critically acclaimed ones.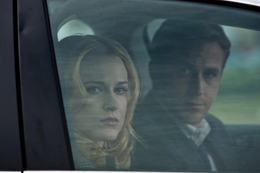 Evan Rachel Wood, as Morris campaign intern Molly Stearns, was a welcomed surprise and a strong compliment to the sea of star power around her.
If there were one criticism of the performances it would be Clooney himself, who felt flat in the midst of such vibrant and compelling actors.
"The Ides of March" brings up thoughts of "All the President's Men" and maybe even subtle hints of "The Manchurian Candidate." Both are better films, but if you need a solid political thriller, with acceptably mediocre direction and some great acting, then "The Ides of March" should satisfy.