Coming of age stories often come in two forms. Some explore the expansion and depth of a life just begun. Films like "My Life as a Dog" follow young adolescents as they blossom into a proto-sexual adulthood.
The other type of coming of age story deals with the fleeting nature of life. In films like "Stand By Me" or "To Kill a Mockingbird," characters catch their first glimpse of death, and must adapt to life as a mortal being.
"The Hedgehog" by director Mona Achache is the second type of story. We follow young Paloma (Garance Le Guillermic), an intelligent and introverted eleven-year-old filmmaker. She is not caught off guard by death or curious about it's mysteries. Instead she states in the opening moments that she sees her life in a wealthy Parisian family as a trap and embraces her own demise. To avoid the vacuous existence of the bourgeoisie, she decides to kill herself on her twelfth birthday.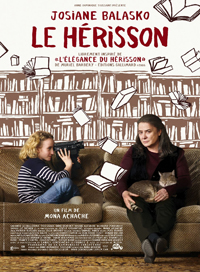 Paloma crafts her film, as an opus to leave behind once she's gone, and we see life in her apartment building through her eyes as she narrates. Paloma prepares for death in a naive and innocent way, the same way that a young girl may have a crush on an older man. It makes the preparation cute and lighthearted instead of troubling.
Her journey towards her final days takes a detour when she becomes fascinated with her building's grumpy concierge, Mrs. Michel (Josiane Balasko). Both Paloma and the new tenant, Mr. Ozu (Togo Igawa), believe that, hiding below her gruff exterior, Mrs. Michel nurtures an elegance that most do not see.
As the three neighbors spend more and more time together, Paloma begins to see life within her upper class community less as a fishbowl, which confines, and more as a place brimming with opportunity for deep emotional attachments that cut across age and class
"The Hedgehog" is a well-crafted story that showcases some impressive performances from Balasko, Igawa, and the young Guillermic. Adults will no doubt focus on the autumn love story between Michel and Ozu, but even children as young as ten may enjoy Paloma's creativity and frankness. It could even calm some of their anxieties over a growing understanding of their own mortality.
Under the newcomer Achache's steady direction, a subject that could have been heavy is warm, funny and full of hope. "The Hedgehog" is making its way through the festival circuit, but if you get the chance to see it in theaters, it is well worth your time.