As a mediocre to dismal summer for films marked by remakes, reboots, and revisits comes to a close, "The Debt," a movie chock full of the familiar – international espionage, maniacal Nazis, and beautiful counteragents – arrives in theaters. Can three Israeli operatives stationed in East Germany to hunt a notorious war criminal save the waning dog days of summer, or will their mission fizzle, as have so many others?
"The Debt" opens in Israel in the late 1990s. Sarah (Romi Aboulafia), a journalist and daughter of two of the Israeli operatives, Rachel (Helen Mirren) and Stephan (Tom Wilkinson), releases a book about her parents' involvement in a 1966 mission. Though planned as a mission to capture Dieter Vogel (Jesper Christensen), an infamous Nazi war criminal known as the Surgeon of Birkenau, not all went as planned and Vogel was shot and killed.
Or so we thought.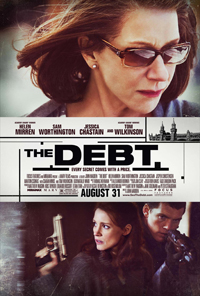 When David (Ciarán Hinds), the third operative, arrives back in Israel after a 25-year hiatus, it seems that the accepted story about the 30-year-old mission may not be the full truth.
Cue documents. Cue Flashback.
In 1966, Young Rachel (Jessica Chastain), Young Stephan (Marton Csokas), and Young David (Sam Worthington), track Vogel to a clinic in East Germany and through many a tense moment, the plot and truth of what transpired reveals itself.
The cast of "The Debt" is a laundry list of powerful actors and as expected, each gives an engaging performance. Mirren and Wilkenson are excellent as always, and Chastain, Worthington, and Csokas each give emotionally driven performances.
The characters and acting satisfy, but the story seems both overly clever and completely derivative. In a story full of Russian soldiers, spies and a notorious Nazi madman, writers Matthew Vaughn, Jane Goldman, and Peter Straughan seem all too willing to cram in transparent and unsurprising plot twists at the expense of drama and character. Vaughn and Goldman are both responsible for the script of "X-Men: First Class" and the same failings plague both scripts. While each story is focused on the relationships between the main characters, they are solid and compelling, but each becomes overly plotted over time.
Though the portion of the story which takes place in the 1960s is solid and the acting overall is very good, ultimately "The Debt" unravels into a film that feels like it has three or four distinct endings, each less interesting than the last.