"Sarah's Key" tells two intertwined stories. The first takes place in present day Paris. Julia Jarmond (Kristin Scott Thomas), an American journalist, lives with her architect husband, Bertrand Tezac (Frédéric Pierrot). While they renovate an apartment that has been in Bertrand's family since the 1940s, Julia, for one of her articles, investigates the infamous Vel' d'Hiv Roundup, when French police under pressure from the Nazis removed masses of Jewish family's from their homes, and held them for days before sending them to internment camps.
The second story takes place in July 1942. Sarah Starzynski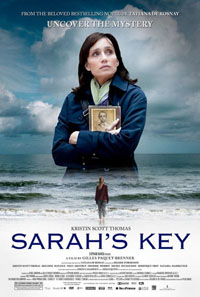 (Mélusine Mayance) and her family are evicted from their home. Sarah's younger brother manages to avoid detection by hiding in a locked closet, but Sarah, her mother, and father are forced, along with other Parisian Jews, into the Velodrome d'Hiver. There, French police hold them, without water or livable sanitation, until the Starzynskis and thirteen thousand other Jews can be shipped to the Drancy internment camp and then on to Auschwitz.
Julia discovers that the Starzynskis owned the Tezac's apartment, and that the Tezacs unknowingly benefitted directly from their eviction. Her relationship with her husband becomes estranged as Julia comes ever closer to understanding the mysterious fate of young Sarah Starzynski.
Director Gilles Paquet-Brenner's film wins you over in its first few moments. For a story about a journalist or the internal moments of a young girl in a horrifying situation, Paquet-Brenner finds ways to make his film visual and moving. In a scene early on, he shows us the conditions of the Velodrome, and then shows the restraint and courage to keep his characters quiet.
A moral or verbal summation of the filth and violence that these people must endure is unnecessary since the visuals speak directly to us. Had Paquet-Brenner added a line of dialogue discussing the terrible nature of the surroundings it would have distracted from the emotions we experience as we watch these early moments in his film.
The mystery and the visually driven nature of "Sarah's Key" hold up for the first half, but then begin to waver and fall apart. Instead of the elegance and subtlety of its own beginning, this movie transforms into a story about a woman on the phone. Though Julia chases clues about Sarah across the globe, she is always indoors, which feels less like a conscious choice by the director and more like a cheat.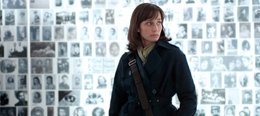 The heavy moralistic dialogue that was thankfully missing early on arrives in the final act. Julia and others conveniently voice what the viewer should be feeling instead of just letting us feel it. Paquet-Brenner rushes the last half of "Sarah's Key," and the characters arrive at emotional conclusions that are forced and unearned based on the story that plays out in the second half.
It is all the more disappointing because "Sarah's Key" showed such potential in its early acts, but this film falls far short of the mark. It leaves you feeling not just flat, but somewhat deflated.