It's been 10 years since Tim Burton's awful "Planet of the Apes" remake failed to reboot the early 70s sci-fi series, so this weekend the new movie "Rise of the Planet of the Apes" tries its hand with a semi-new origin story.
The big surprise is that "Rise of the Planet of the Apes" is one of the only would-be 2011 summer blockbusters to actually deliver the goods. It stays true to the central metaphor of the original films and takes its time setting the story up so that when the apes finally do run amok, we are totally invested in the story.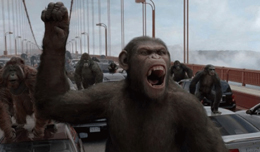 James Franco is one of many actors painting in broad strokes here. John Lithgow is sympathetic as Franco's Alzheimer's-stricken father, Brian Cox is his usual menacing self, and Freida Pinto barely registers with not much to do, but the film has a darkly funny sense of humor, so even when some of the villains are disappointingly one-dimensional (like Tom Felton's grudge-holding ape wrangler), "Rise of the Planet of the Apes" still works amazingly well.
Andy Serkis, who played Gollum in "Lord of the Rings" under all that remarkable performance capture technology, does it again here as Caesar, the ape who is smarter and more human than any actual human in the entire story.
The CGI apes look great, the action scenes are tense, and the classic themes are more or less intact, making "Rise of the Planet of the Apes" some surprisingly solid entertainment.