Rio is by all accounts a very traditional animated feature. We get likable stars in the form of cute animals, a few big musical numbers, stories centered around friendship and true love, and even a menacing villain or two. Although the film doesn't stray too far off the path of what we've seen (many) times before, Rio delivers a colorful film and its share of fun.
The story centers around Blu (Jesse Eisenberg), a domesticated Spinx Macaw who never learned to fly. Blu travels from his cozy home in Minnesota to the Brazilian wilderness with his owner Linda (Leslie Mann) when an ornithologist (Rodrigo Santoro) convinces them to help save Blu's endangered species.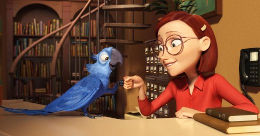 I would have liked to have seen more of Linda and Blu's life together in Minnesota. After a brief introduction, we only get a montage of the two growing up together and then a single scene before moving onto to their adventure. Although the film has plenty of relationships, this is the one that held the most promise, and is sadly interrupted by the series of events which follow.
In Brazil, Blu meets the only other known Blue Macaw, the feisty Jewel (Anne Hathaway). Let's just say their first meeting doesn't go quite as well as the ornithologist hoped. The two immediately start fighting, despite an obvious attraction, and being chained together doesn't help either of their dispositions. Anybody want to take money on these wacky kids ending up together?
Blu and Jewl soon finds themselves on a much wilder adventure than either of them bargained for which includes smugglers, crazed monkeys, and an evil cockatoo (Jemaine Clement). With the help of a toucan (George Lopez), a bulldog (Tracy Morgan), a canary (Jamie Foxx), and a cardinal (Will i Am), Blu and Jewel try to stay alive long enough to remove the chain which binds them together and get on with their lives.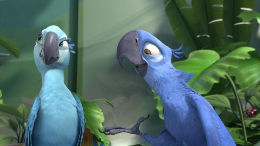 In old school Disney fashion the movie contains quite a few musical numbers with several of the characters bursting into song. The music fits the locale of Rio de Janeiro as well as the tone of the story, but none of the songs, individually or as a group, are at all memorable. Much like the movie, you'll most likely enjoy them momentarily and then promptly forget them after leaving the theater.
I will say I enjoyed the film's look which is an explosion of color. In terms of high quality animation it might not measure up to Pixar or Disney's best, but it does provide a vivid setting partaking of a wide palette of colors. This should appeal especially to young children, although the somewhat convoluted plot and meandering of the story might also put them off.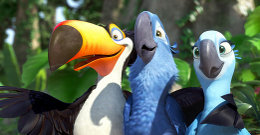 The screening I attended was in 3D, and although it's competently done and far better than some of the retrofitted films put out recently, there's nothing here that demands you see it in an extra dimension (especially at a higher ticket price). You'd be just as well off paying the regular price, or even waiting to catch this one on DVD or Blu-ray.
Rio is far from a must-see, but if you're looking for a spring flick to take the kids to, or simply a colorful adventure to take your mind off things for about 90 minutes, then it just might be what you're looking for. This is Disney light (like all of Blue Sky Studios' animated features). So keep your expectations low, sit back and enjoy the pretty birds, and you should have an okay time.