Claireece "Precious" Jones, the abused and illiterate 16-year-old in "Precious: Based on the Novel 'Push' by Sapphire," is so beaten down by her circumstances that she hardly ever shows emotion.
Played by newcomer Gabourey Sidibe, her face is frozen in a near-constant grimace that seems to anticipate that something awful is about to happen at any moment.
It's Harlem in 1987, and obese Precious trudges painfully through her day, escaping only with an active fantasy life where she imagines she's the star of a glamorous BET-style photo shoot.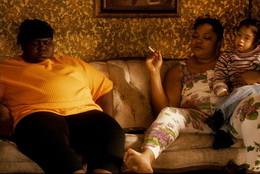 An Evocative Mood
With "Precious: Based on the Novel 'Push' by Sapphire," director Lee Daniels has illuminated this character in the most brutal and shocking light possible. I've read some critics who have dismissed the film as nothing more than exploitative "poverty porn," but that is a limited way of looking at it.
For a movie steeped in grimy realism, "Precious" unfolds in an unusually impressionistic fashion, with artful cinematic transitions and a loose brand of storytelling that emphasizes little moments as much as it does big revelations.
Pitch-perfect performances
Daniels is a former casting director, so maybe that explains why what appears on paper to be a really bad idea turns out instead to be perfect. There's nothing funny about stand-up comedian Mo'Nique's performance as Mary, Precious' abusive welfare mother. The intensity Mo'Nique brings to the role makes me think that the actress herself is familiar with this kind of story. The heartbreaking moment where Mary's conscience almost catches up with her delusional and selfish outlook is enough to solidify this as a powerhouse performance.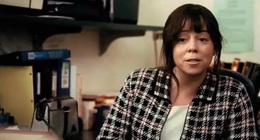 Less overt and almost unrecognizable are Mariah Carey and Lenny Kravitz as Precious' social worker and nurse, respectively. Nothing we've seen from these musicians in the past could have clued us in on why this casting would work, but Carey's sympathetic eyes and Kravitz's gentle camaraderie offer Precious some much-needed sincerity.
A real place
Sapphire's novel was written in a first-person stream-of-consciousness narrative, and Daniels gives us a voice-over from Sidibe that functions in a similar fashion. Rather than using the narration simply as a device to connect the dots between plot jumps, we hear inner thoughts that range from typical teenage flights of fancy to the thoughts of a girl who's discovering her own potential. It gives a voice to a character who hasn't really had one.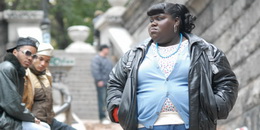 Daniels also avoids the temptation to draw simple lines of cause and effect with fractured but chronological storytelling. By including scenes that carry either the most emotional impact or the most telling of subtle moments, he draws a full picture of Precious that's as cathartic as it is devastating.
Cyclical journey
As unfamiliar as most of this territory is, I have no doubt that these situations exist. Audiences will find much of "Precious" shocking, but even in this world that seems defined by the cycle of abuse, Precious can glimpse some hope in her journey. And it's a world inhabited by many others, which makes Daniels' credit-roll dedication to "precious girls everywhere" all the more poignant.