The idea of taking an internationally beloved classic of the film medium and remaking it as a musical is, to be fair, about the worst idea since someone decided to end a children's movie title with "The Squeakuel."
But with names like Penélope Cruz, Marion Cotillard, and the simply amazing Daniel Day-Lewis in the cast, and with the vetted musical director Rob Marshall (Chicago, Memoirs of a Geisha) behind the lens, it's hard to see a bad movie coming out of the pipe.
And indeed, Nine is by no means a bad movie, but it's nowhere near as good as its pedigree would suggest.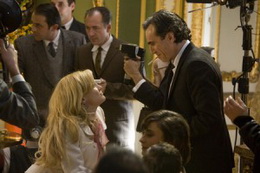 Based on a theater musical that's based on Federico Fellini's 1963 masterwork 8½, the movie is about a film director with writer's block. A week away from beginning principal photography on his next project, all he has is a title. The director, played by Day-Lewis, keeps running from his responsibility, never committing to anything on the film. And it becomes apparent pretty quickly that he has difficulty committing to anything in life, including his wife (Cotillard).
You would expect Day-Lewis to be great in any role, and he's the strongest aspect to this film. The man has incredible range – though I primarily think of him as abandoning his child with There Will Be Blood, Day-Lewis doesn't recall a single memory of that performance. He's totally different here – a wiry, whiny man who can't do anything better than put off a decision. Still, I can't help but feel this is a sub-par performance for the man, even if that still allows for it to be nomination-worthy.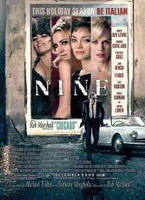 Or maybe I feel like Day-Lewis isn't as effective as he normally is because the film built around him doesn't do much or go anywhere. Marshall, a man who can do extravagance, doesn't do much at all with Nine. He sets up Day-Lewis' character, and allows the story to do most of the talking. Day-Lewis is certainly an actor worth building a film around, but it'd be nice if there were anything in this movie aside from casting that was strong.
It's probably not impossible to guess that Nine isn't as effective as 8½. Fellini's tale of 20th Century art was dizzyingly involving, seemingly on the edge between reality and surreality. It digs itself into your brain and stays there.
It's not to say that Nine needed to be as good as or better than 8½. Really, all it should do is give us an alternate take on a story, be it narratively or stylistically. Since its a musical, something that 8½ certainly was not, Nine can avoid being labeled a straight-up remake – but the end product still feels, well, pointless. The music is uniformly dull, something that a musical can't afford to host. What's the point of listening to a boring song? Stylistically, all Marshall does is take the supreme vision of Fellini's and replace it with an utterly basic one, one that doesn't say anything or even look that nice. He's erased Fellini's auteur stamp and replaced it with a generic tone.
Maybe it's just unfair that Nine, a pretty decent film if only for its cast, happens to be an adaptation of a musical that reimagines one of my favorite films. Maybe, just because of that, I was never going to like it. But what's the point of remaking a movie if you can't do something interesting with it?
I was looking forward to Nine. I thought it would be a great opportunity to look at 8½ through a completely different lens. And it is different – it's just that it's different because it's far less interesting and doesn't have an ounce of the beauty that was in the original. It can still be good, but it's still pointless.