If Jim Carrey shows up in your romantic comedy or family film, you should have a hunch that he's probably living life the wrong way. He could be taking things for granted, ignoring what's important, or not living life to the fullest. All he needs is a little push, some outside force to give him some perspective.
Perhaps an estranged son's birthday wish could turn him around, or maybe a visit from God. A dare from his friends and Zooey Deschanel would do it, or as happens to be the case in his latest film, "Mr. Popper's Penguins" it might just be six lovable mischievous penguins that help Jim Carrey rediscover what's most important in life.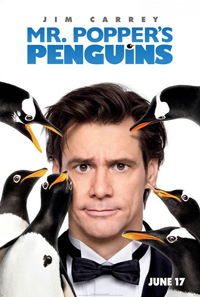 Mr. Tom Popper (Jim Carrey) is a rising star in New York real estate. He has no time for anything except the next deal. He ignores his children, Janie (Madeline Carroll) and Billy (Maxwell Perry Cotton), and his amicable ex-wife, Amanda (Carla Gugino), all in the pursuit of his next business conquest.
Popper is just one deal away from his promotion to partner at his development firm, but in order to make partner, Popper must secure the Tavern on the Green, the Holy Grail of New York properties held by Mrs. Van Gundy (Angela Lansbury).
Just when it seems that nothing could go wrong, his estranged father sends him six gentoo penguins. Hilarity and life lessons ensue.
The story and characters in "Mr. Popper's Penguins" are all worn-out clichés. We have the aggressive businessman with a heart of gold, the overlooked sexy ex, the young and idealistic son, and the compulsively texting teen girl. Throw in a batty old grandmotherly property owner, and a couple of ancient inscrutable scrooges and you probably have a handle on what to expect.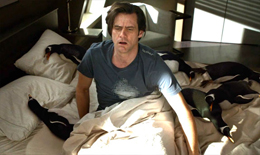 This film is as predictable as they come, and little, if anything, surprising happens. Perhaps just to edge up the lowbrow humor, "Mr. Popper's Penguins" is packed to busting with flatulence and scatological humor. At one point I questioned what good Mr. Popper was feeding his web-footed friends, because I found their lack of rectal control disturbing.
In spite of the poop and fart jokes, "Mr. Popper's Penguins" is an innocuous film that might offer some entertaining distraction for younger kids. There are a handful of fun visuals, including a scene which has six penguins sliding down the interior spiral of the Guggenheim, but all in all Mr. Popper and his penguins are far from a must see.