Woody Allen is back with his yearly cinematic offering. "Midnight in Paris" is a joyful and funny romantic comedy fairytale that follows Gil (Owen Wilson), a screenwriter who pines for a bygone era and a more vibrant artistic time.
"Midnight in Paris" showcases Allen's love of the title city and his love of the 1920s. The film begins with a montage of static shots that take us through a day in Paris, while underneath the images the upbeat sounds of a 20s jazz push us from shot to shot.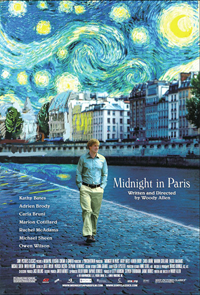 We meet Gil, who shares Allen's love of the 20s and Paris, and his fiancée, Inez (Rachel McAdams), as they explore the City of Lights with Inez's parents. Gil is a romantic who longs to finish his novel and wants to walk through Paris in the rain. Inez on the other hand is practical and self-centered. She doesn't see anything fun about getting wet.
There is no mystery in the fact that Inez and Gil are wrong for each other. Even Gil, who adores his less than perfect partner, grows suspicious of their relationship.
When Inez's pseudo intellectual friends Paul (Michael Sheen) and Carol (Nina Arianda) show up, Gil decides he'd rather walk the streets of Paris by himself. As he explores his beloved city, Gil quickly makes friends with a magical host of characters including the lovely and fascinating Adriana (Marion Cotillard), a young Parisian.
"Midnight in Paris" is Gil's story, and Owen Wilson does an admirable job in the lead role. His slightly exasperated and yet understated delivery allows for brilliant comedic gems to live in Gil's numerous digressions. Wilson doesn't fall into the trap of making Gil into a Woody Allen doppelganger, but instead makes the role his own.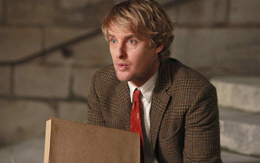 There are also a number of wonderful supporting performances. Adrian Brody is hilarious and Corey Stroll is great, both as midnight revelers that Gil encounters as he wanders Paris at night. Kathy Bates also appears in a small, but pivotal role, and for as little screen time as she gets, she couldn't be better.
"Midnight in Paris" has its flaws. The characters of Inez and her parents are relatively flat and underdeveloped, but they're still funny. The resolution comes a little too easily at the end, but it still manages to satisfy. All in all, Woody Allen offers us a bit of lighthearted introspection and a number laugh out loud moments. If you need a respite from the more unwieldy big summer movies, "Midnight in Paris" is a welcome and wonderful escape.