You might have heard that Tom Hanks' new film, Larry Crowne, isn't just an acting vehicle – Hanks also cowrote the script with Nia Vardalos, and he even dircted the picture. None of this is surprising, though, after seeing the film, as Larry Crowne could pass as the standard for an actor-directed film.
In it, we follow a man who I'm sure you'll be shocked to discover is named Larry Crowne. An eight-time employee-of-the-month at his nearby Wal-Mart approximate, Larry might be the perfect man for his job – low on the corporate ladder, but he's not complaining. So it's a surprise when he gets fired out of the blue and only because of his lack of a post-secondary education.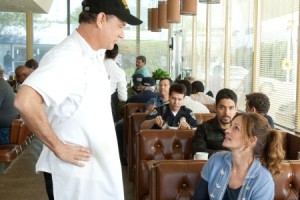 Hoping not to be put in this position again, he enrolls in community college and finds zany friends he wouldn't have ever met outside of school. Julia Roberts plays the teacher and this is a  romantic comedy, so by the end of the film, things are looking up for this Crowne character.
Hanks is, of course, a fine actor. He might not be a method dynamo, but his humble every-man essence seeps into every performance he's given. The man, and his characters, may be impossible not to root for. As Crowne, Hanks keeps up this tradition. Larry isn't as clever as we might expect from the actor, but he's just as charming as ever.
The problem with Larry Crowne isn't the star performance, nor is it any of the others in the film. Hanks surrounds himself with charming, nice performers in supporting roles. A lot of them are just a few centimeters from irritatingly "quirky," but they never get enough screen time to quite wear out their welcome.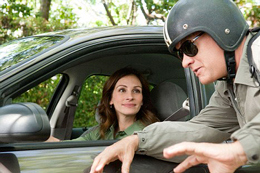 The real problem with the film is how engulfingly vanilla it all is. With a plot that could come out of a TV movie, Larry Crowne often plays like a perfectly clichéd version of NBC's Community. And however much Hanks may be dedicated in front of the screen, he doesn't have much zest for the cinematic medium – shots, editing and a pop-song score are all very pedestrian here.
But Larry Crowne surpases this hurdle by the fact that Hanks is just too damn of a nice guy, and that's going to keep me watching. There's nothing about this filmmaking that is of any interest, but it proves that acting, in spite of anything else a film may or may not have going for it, can make or break it all.