Po (Jack Black), the reluctant and obese Dragon Warrior, and his gang of kung fu specialists are called back into action in Dreamworks' "Kung Fu Panda 2".
The story, which has Po, Tigeress (Angelina Jolie), Monkey (Jackie Chan) and all the rest chasing the nefarious peacock Lord Shen (Gary Oldman), is thoroughly entertaining if not a little overstuffed.
"Kung Fu Panda 2" begins with a beautifully animated prologue.
In the not too distant past, the ambitious young Shen, heir to the peacock throne, discovered that the fireworks which made his parents so beloved could be turned to darker aims. The royal Soothsayer (Michelle Yeoh) warns Shen that if he continues to pursue a violent path that he is destined to fall at the hands of a warrior of black and white. Shen raids the Panda village and destroys everyone.
Well, not quite everyone.
If "Kung Fu Panda 2" had just stuck to Po's origin and destiny and his coming confrontation with Shen, it would have had plenty to fill its 90 minutes, but there are at least two more huge life lessons shoehorned into the script.
Master Shifu (Dustin Hoffman) also wants Po to learn how to harness inner peace, and because of growing questions surrounding his past, Po begins to question who he is. All of the pieces do eventually weave together, even if there are moments that feel forced and overly structured.
There are a number of great moments in "Kung Fu Panda 2." One scene that is particularly good is steeped in the language of the classic western or samurai film. Po must recover from a particularly heinous defeat. While the Soothsayer nurses him back to health, Po trains and prepares for his confrontation with Shen. There is definitely a nod to films like "Yojimbo" or "Unforgiven."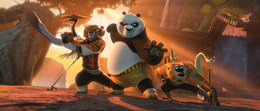 The animation is great, and comes in three distinct styles. I have already mentioned the prologue, which is made to look like a cross between an ancient Asian scroll and illuminated manuscript.
The animation of the main story is the fully rendered crisp computer generated animation that has come to define modern animated films. Finally there is the animation of Po's dreams, visions and flashbacks. This looks like more traditional hand drawn animation, with its thick outlines and sketchy quality.
All three styles look great in 3D, which adds depth and dimension to the visuals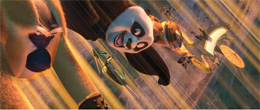 without ever making the viewer duck from stray projectiles. The fight sequences,which are pretty intense and may not be for younger or more sensitive children, are particularly dazzling in 3D.
Though the occasional unnecessary fat joke is crammed haphazardly into the film, with "Kung Fu Panda 2," Dreamworks takes another step away from the vulgar and largely unfunny "Shrek" franchise.
"Kung Fu Panda 2" is a surprisingly smart and funny film that should keep parents and children entertained for an afternoon.