The signs were all there. No guest would accompany me to the film, the theater was only half full for the screening, I probably should have known, but I decided to give "Judy Moody and the Not Bummer Summer" a fair shake. I can say having sat through its full 91 minutes, that "Judy Moody" is a joyless and un-fun trek through the worst of filmmaking mediocrity.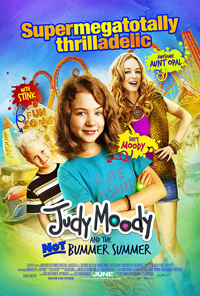 Let us begin with Judy (Jordana Beatty) herself. As a character this plucky youngster vacillates from annoying at best to thoroughly unlikable at worst. Throughout the film, Judy is mean to her friends, self-centered, selfish, and rude, and it's all wrapped up and presented as if these flaws were just precociousness, and excited creativity.
I would not mind if Judy seemed to learn from her flaws and mistakes, but instead they just seem to be reaffirmed. There is a thirty-second montage of reflection towards the end, but nowhere in the film is there growth.
On the last day of school, Judy concocts a plan for this to be her best summer ever. She presents a list of challenges to friends, Frank (Preston Bailey), Rocky (Garrett Ryan) and Amy (Taylar Hender). With the completion of each successful challenge, like riding the local roller coaster, a participant will get "thrill points."
Judy's plan quickly turns sour when Amy and Rocky reveal they that they are spending the summer away, and Judy's own parents must go to California, leaving her and brother, Stink (Parris Mosteller), in the care of the loony Aunt Opal (Heather Graham).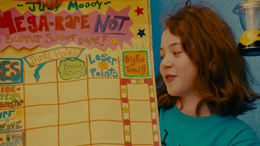 Aunt Opal is presented as a free-spirited, guerilla artist, who flits from continent to continent. All I saw was an irresponsible, homeless person, who makes a mess of her brother's house and adorns trash with her kitschy crafts.
Opal is flat and never seems entirely motivated to either give Judy perspective, which might improve Judy's attitude, or help her achieve her goal of accumulating thrill points.
Oh Heather Graham, truly you are stuck in the Black Lodge.
At the end of "Judy Moody," we are given a minute or two where Judy states that her summer has indeed been the best one yet. All of her failed attempts to make it an awesome summer somehow made it awesome. This doesn't work at all. Judy, up until this moment, has been a pouting, disagreeable grump, and now just because her character is vocalizing the change that one would hope for, it does not make that change real.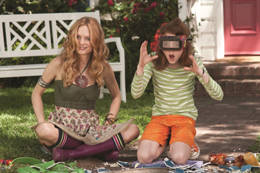 To be honest, "Judy Moody" was not made for me. The target audience is 6 to 9 year old girls. Let me just offer this telling observation. The audience that joined me in the theater was comprised mainly of members within that demographic. Elementary school-aged girls surrounded me, and as they watched the film there wasn't a laugh, giggle, chuckle, gasp, or guffaw. A group that would normally be effervescent with childhood energy was silent for the entire movie.
Mirthless and boring, even the outtakes from "Judy Moody," which roll over the credits seem utterly joyless. It appears that this film wasn't even fun to make. It definitely wasn't fun to watch.