As you may be able to tell from its title, the new comedy "I Love You Phillip Morris" is a love story. It's about infatuation, obsession, and the insane lengths people will go to when they are deep in love's sway. It just so happens that the lovers in question are two gay men who fall in love in prison.
Maybe it was the movie's upfront and sometimes exaggerated treatment of a gay lifestyle, or perhaps it was the wildly divergent tonal shifts that caused the almost two-year distribution delay in getting the film to release in America. Whatever it was, it was worth the wait.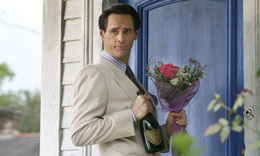 Unlike so many modern romantic comedies, this one has guts.
Helmed by first-time directors Glenn Ficarra and John Requa, the screenwriters behind the infamous dark comedy "Bad Santa," "I Love You Phillip Morris" is a movie that is so over the top at times that it seems like a parody even as it dares you to think of it as the God's honest truth.
"This really happened," the opening titles tell us. And then, as if there would be plenty of doubt to come later in the film, it adds: "It really did."
The movie is also a showcase for the dual strengths of Jim Carrey. As freewheeling and hyper-intelligent con man Steven Russell, Carrey is brimming with confidence and the kind of slapstick swagger he's been known for — but he also gets a chance to show a vulnerable side that we don't get to see too often in his films. (For that damaged sensitivity, "Eternal Sunshine of the Spotless Mind" springs to mind. Cross that movie with "Ace Ventura" and you might be getting in the ballpark. Sound weird? It is.)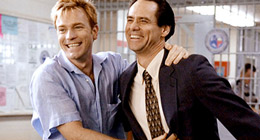 Let it be known that "I Love You Phillip Morris" is far from your typical Jim Carrey vehicle — although I wouldn't discourage fans of Carrey's sillier movies from seeing this one either. Frankly, it's a joy to see Carrey used in a way that revels in his schizophrenic nature while also trying to make some authentic emotional sense of it as well.
The first part of the movie takes off at blinding speed, tracking Steven's closeted married life as a lawman and churchgoer. Even after he has his (literal) Big Bang 'a-ha' moment, the pace rarely slows down.
Steven eventually cons his way into a legitimate CFO job with fake credentials (something that he would later use to shocking effect) and embezzles thousands of dollars, but not just because he is a criminal. Remember that whole "I Love You" thing? The trusting, doe-eyed Phillip Morris (played with a delicate sweetness by Ewan McGregor) is the object of Steven's desire, and no prison sentence or maximum security prison will keep them apart.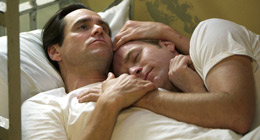 There's a genuine spark between these two and Carrey and McGregor are having the time of their lives in these roles. They seem freed up; a little more reckless than usual. The places that "I Love You Phillip Morris" goes for laughs aren't the usual for this genre, and that unpredictability is infectious. One example of this is in the first scene.
For a comedy, it starts in a pretty dark place. We know that anguish is on the way for Steven, because in that opening, he is narrating the film from his death bed. Ficarra and Requa frame the story with this device, so a feeling of uncomfortable dread hangs over the proceedings, however joyful or playful any one particular scene is.
When the movie itself begins to echo the grandest of Steven's cons, even Phillip starts to question what's real and what's not.
Does all of this constant up and down make "I Love You Phillip Morris" a jarring film? Absolutely. It's not perfect. But it's not rote either. The storytellers and actors infuse the whole affair with such energy that it's impossible not to just sit back and admire the gall of it all.