How do you conclude a fourteen-year literary and cinematic legacy? Well if you're director David Yates and writer Steve Kloves and the movie is "Harry Potter and the Deathly Hallows – Part 2," then you make sure to toe the literary line, not wanting to excite or offend. This results in a film that is nearer a whisper than a bang.
"Deathly Hallows 2" follows up one the best films in the series. "Deathly Hallows 1" was a moody emotional film that took the best portions of the first half of book seven and made them personal. It was a setup film similar to "LOTR: The Two Towers" or "The Empire Strikes Back," and was left purposefully unfinished.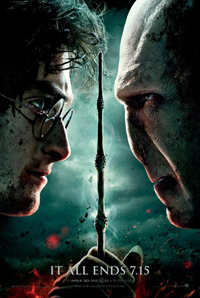 I thought going into "Deathly Hallows 2" that I would get knocked down by the volume and action hinted at by "Part 1." Instead I got a surprisingly quiet film that dutifully moves from plot point to plot point as needed to fulfill the desires of Harry Potter book readers. It makes more a visual companion to the final book and less a film that can stand on its own.
"Deathly Hallows 2" does do a number of things well. It hits the ground running exactly where we left off with nary a pre-title tease and little recap. Harry (Daniel Radcliffe) and his companions are still looking for horcruxes. Their adventure takes them to the depths of the wizarding bank, Gringotts, before returning them to the familiar halls of Hogwarts.
Alan Rickman, who I feel was often underused in the earlier films, again reprises his role as Severus Snape. His nuanced performance makes the most of his limited screen time, and adds depth to this complex character. One of the more emotionally successful moments in the film is a montage of interactions between Snape, Dumbeldore (Michael Gambon), and Harry.
Amazing and magical things happen onscreen, and it would be difficult to oversell the technological achievement. The 3D was effective, tactful, and adds depth without distraction. The smoke effects in particular are dazzling, and there is a transition into and out of the invisibility cloak, as well as a number of action scenes that I thought used the 3D well.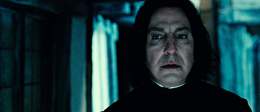 Overall, it seems the decision to strip down "Deathly Hallows – Part 1" to its bare essentials, which gave us an emotional drama as well as a magical fantasy, did not carry over to "Deathly Hallows – Part 2" Often, "Part 2" seems overburdened with stuff, which distracts from the emotional journey of the few main characters.
I understand why they would want to insert every minute detail. I have read each book in the series, and went so far as to reread all of them in order to brush up for the eighth film. In spite of this, I can say that "Deathly Hallows – Part 2" relies too heavily on a viewer's knowledge of the books, not only for clever asides or minor digressions, but also for large pieces of the story.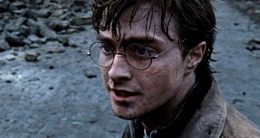 By cramming the screen full of stuff that relies on the book for development or understanding, Yates doesn't give certain characters or struggles the needed onscreen emphasis. When the battles happen and heroes or villains fall or rise victorious, Yates hasn't given us enough build or setup. The scenes then lack the emotional punch that these particular moments deserve. It makes a film that's good, but not great.
Will anything that I write in this review have any bearing on whether you will love or hate "Harry Potter and the Deathly Hallows – Part 2?" Probably not. Most of the audience will have made up their minds about whether they will enjoy this piece of Potter-phernalia two or three films ago, and in this case that's okay by me. It's an alright film that doesn't aspire to much more than making the words on the page into pictures, and commits no cinematic injustices. It could have been better, but it's not bad.