Joe Wright, director of the highly acclaimed "Atonement," jumps aboard the girls-kicking-ass train with his most recent offering, "Hanna."
Wright taps into the same well-mined landscape of such films as "The Girl with the Dragon Tattoo" trilogy, the "Bourne" offerings, even a touch of "Let the Right One In," but where as those films often walk the fine line between compelling story and adrenaline filled action, "Hanna" feels a bit underwhelming.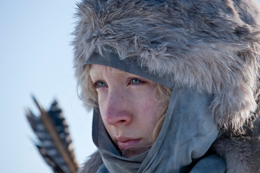 Hanna (Saoirse Ronan) lives alone with her father, Erik (Eric Bana), in an isolated cabin in the desolate Northern reaches of Finland. Erik, a rogue agent for the CIA, trains Hanna on everything from various foreign languages, to hand-to-hand combat. Hanna's origins are shrouded in mystery and it seems that Erik is preparing her for a single purpose, to confront the shadowy CIA operative, Marissa Wiegler (Cate Blanchett).
One particularly telling scene comes early in "Hanna." Erik reads to Hanna from an antiquated encyclopedia. During this rustic home schooling, Erik reads about Laika, the Soviet space dog, and explains that she died in space. Hanna corrects him and insists that Laika got away. When Erik mentions that reentry was impossible at the time and Laika couldn't have survived for long, Hanna tells him that he's reading it wrong.
This scene hints at misuse of individuals for the benefit of governmental organizations, and predicts what is to come later in the film. Now the only question is: will Hanna, our Laika, survive her own ordeal?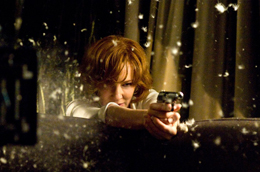 When Hanna's training is complete, Erik produces a transmitter which will notify Wiegler of their location. Hanna flips the switch and the chase is on.
On Hanna's journey, she discovers a document, a DNA sequence built from her blood sample. It shows that her DNA is abnormal, and though she doesn't understand what the document says, she realizes that she may not be the person she thought she was.
Wright uses a number of references to Grimm's fairytales and the parallels employed are obvious and sometimes distracting. He also uses the musical soundtrack, provided by the Chemical Brothers, to predict coming action sequences. Instead of building tension, it only serves to rupture any suspense that had built up.
Saoirse Ronan gives a nice performance as the titular character. Ronan must play a character that is dangerous yet naïve, and strong yet still very much a child. Some of the more emotionally compelling moments occur when Hanna stumbles into the company of a family traveling in Spain. Hanna's interaction with the teen daughter and some of the local Spanish boys makes for a humorous and awkward look into this young woman's as of yet undeveloped sexuality.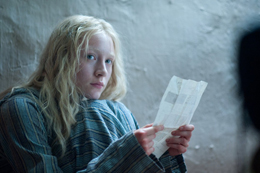 From my review, you can probably start to see the problems with "Hanna." In it we have hints of a coming of age story, a modern retelling of a fairytale, an espionage action film, and a semi sci-fi origin mystery. It explores too much for its 90 some minutes, and Wright never fully commits to heady fairytale inspired coming of age tale or espionage intrigue and action.
Though there are some solid action sequences in Hanna, and many will probably leave the theater and proclaim "Hanna" a thrill ride, I found "Hanna" to be an odd mixture of heady themes and action sequences that doesn't quite work and left me a little disappointed.