I'm not sure that we needed remake of "Fright Night," a "boy who cried vampire" horror flick that balanced both drama and comedy back in 1985, but in today's mainstream horror market, a remake is about the only thing that will guarantee your film will be at least a mild hit.
This new version, directed by Craig Gillespie, starts with a wide aerial shot of its setting, a small, isolated housing division near the sinful haven of Las Vegas. It's a great place to house a modern vampire tale where nobody believes the kid who thinks he's discovered evil–a morally bankrupt city.
Colin Farrell is having a lot of fun as the next-door neighbor who might be a vampire. He gets a lot of mileage out of the double entendre dialogue and slyly threatening demeanor, but honestly, there aren't enough scenes like this or enough great dialogue for him to chew the scenery with.
Anton Yelchin suffers the appropriate growing pains as Charlie Brewster, a high-school kid trying to balance his nerdy past with his unbelievably hot new girlfriend (Imogen Poots), and Christopher Mintz-Plasse is sympathetic as his former best friend Ed.
Unfortunately, this new "Fright Night" dispenses with the "is he or isn't he" aspect a bit too quickly. It means a less creepy, voyeuristic experience, and it dispatches Ed way too soon. It also strands Charlie, giving him little else to do but run.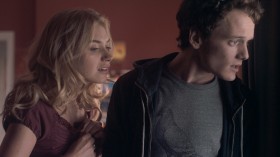 Once that's out of the way, there are a couple of tense moments and some well-done action scenes—and that's about it. It's too bad that the 80s original, filmed at the height of gay panic, has more resonance and a stronger metaphor, but Gillespie and Co. fashion a couple of well-done suspense scenes in the process of "updating" the movie.
Changing Roddy McDowall's late-night movie host in the original to a theatrical Criss Angel-like magician is clever, but they don't do all that much with David Tennant—the actor who plays him. His dialogue just isn't funny enough. And Toni Colette is wasted in a thankless role as the Mom who thinks Farrell is pretty hot. For about 15 minutes.
There should have been more scenes with the actors under Farrell's magnetic spell before the chase is on. "Fright Night" even manages to underwhelm in the climax.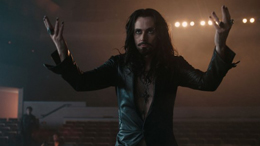 Not only is there a silly plot device thrown in at the last minute to let everyone off the hook and reverse all damage that's been done, but the final action showdown feels empty–kind of like the way David Yates bungled Harry Potter killing Voldemort at the end of "Harry Potter and the Deathly Hallows – Part Two."
All is not lost with this new "Fright Night," and it does have more character development than most horror films, but overall, I'm just pretty mixed and "blah" about the whole affair.
Oh, and did I mention it's showing in 3D too? Don't bother. It's worthless, save for a couple times when things come at the screen. The glasses also makes the already darkly-lit film even more murky.