With its jittery stop-motion animation, exquisitely detailed shots, and outwardly self-aware characters, director Wes Anderson's "Fantastic Mr. Fox" is the epitome of artifice. It's also as bright and cheery a time as you'll have at the movies this year.
Anderson and co-writer Noah Baumbach have adapted Roald Dahl's 1970 children's book into a breezy 88-minute movie that is constantly reminding you that it is a movie.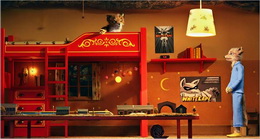 Essentially, the film boils down to this: A confident, charming Mr. Fox (voiced by George Clooney; who else?) has promised his fox wife (Meryl Streep) and fox son (Jason Schwartzman) that he'll stop the risky behavior of raiding poultry farms and settle down in heir new tree home. Despite Mr. Fox having everything he needs, however, in his words: "How can a fox ever be happy without, you'll forgive the expression, a chicken in its teeth?"
The three evil farmers Boggis, Bunce, and Bean are his targets, but soon Fox gets caught up in the thrill of the hunt and bites off more chicken than he can chew. Soon the entire nearby animal population is involved in his personal war.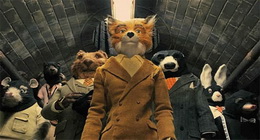 For Anderson, who viewed dailies from his Paris apartment while the film's animators shot in London,"Fantastic Mr. Fox" is another chance to meticulously craft every object in the frame to his liking. In fact, there's more than one detailed dollhouse cross-section sequence in "Fox" that's strikingly similar to the long tracking shot of the submarine in "The Life Aquatic."
This may be a fantasy world where foxes talk and badgers have law offices, but design-wise, everything is real. From the moving fur on the characters' faces to all of the miniature hand-sewn outfits, the movie gives you a tactile pleasure you don't get often in modern animation. This throwback attitude continues through the production design as well, with autumnal colors and a small-town 1930s look to the architecture and costumes.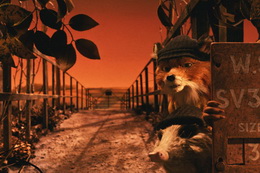 Besides being a pleasure to look at, the movie also sports the same dry wit of Anderson's previous films. Clooney riffs off of his Danny Ocean character when he whisks through heist plans with his trademarked old-Hollywood speed and comic timing. Regulars Bill Murray and Owen Wilson also voice smaller roles and have their moments, but Willem Dafoe is the biggest standout as a crazy-eyed rat who works for the human farmers.
"Fantastic Mr. Fox" explores some of the same malaise that all Anderson's main characters have, but it's a little lighter toned. While the subplot of Fox's son and nephew's rivalry has some reflective brooding, Mr. Fox himself is relentlessly upbeat, even when he's in a jam.
That attitude is infectious and it carries the briskly-paced movie—even though it doesn't ever try to engage on any real emotional level.