This year's True/False Film Fest in Columbia, Missouri provided a diverse crop of films, and plenty of excitement. If you haven't been, you owe it to yourself to go next year—it's basically four straight days of great documentaries, music, and parties. There were movies you'll almost certainly be hearing more about in the months to come, like "Project Nim," "The Arbor," "The Interrupters" and "Buck," among others, but there were also plenty of lower-profile pieces that felt just as important, ones that were small in budget but big in spirit.
For those who saw it, I'm certain that the most affecting movie of the festival was a Latvian doc that fell on this lower-budget end of the spectrum.
The film, "Family Instinct," is a shocking, emotionally intense work directed by Andris Gauja that may not be for everyone, but for viewers willing to stick out the short running time (58 minutes), it's one of those rare movies that really makes you reconsider the way you look at the world.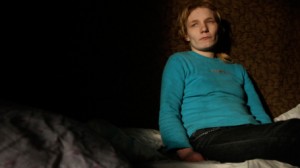 The film tells the story of a Latvian woman, Zanda, who lives in squalor with her children. Just one aspect of the brokenness of her family is that these two kids are the product of an incestuous relationship with her brother, Valdis, who also abuses them.
"Family Instinct" begins with Valdis being arrested, and follows Zanda's life during his year in jail, and her relationships with a motley collection of deeply messed-up neighbors who manage to be simultaneously funny, pathetic and troubling. Zanda's neighbor Oskars steals his granny's chicken to trade for booze. Another neighbor, John, is certain Zanda loves him, and when his advances are rejected, he shows he's willing to go to disturbing lengths to prove his devotion. Two drunken men get into a fistfight and end up sleeping naked together on a bed as "Love Lifts Us Up Where We Belong" plays on the radio.
Throughout all of this, Zanda remains the pillar of responsibility in her small community, looking after everyone, and worrying all the while about what will happen when Valdis returns from jail. You may be wondering why anyone would want to spend even five minutes with a bunch of Latvian down-and-outers, let alone one hour. I could give you plenty of reasons, like how well it's shot, or how real and gritty and hardcore it feels, all of which are valid.
But the real reason is that these characters don't just represent a sad, obscure little corner of the world. They speak to anyone who lives in a community that includes impoverished families.
It's so easy for those of us who don't live in a situation this dire to write off people who are financially and socially unstable. We question the parenting choices of mothers who live with abusive husbands. We judge the people who live in the run-down trailer park down the road, whether we mean to or not, because we don't fully understand their situation.
At its heart, "Family Instinct" is an eye-opening experience that provides an unbiased look into that kind of lifestyle, and makes you feel empathy for its characters, because we realize that they simply don't know anything else. I'm not sure what the future of "Family Instinct" will be on (or off) the festival circuit, but I do hope more audiences get the opportunity to see it. It's a skillfully done, unflinching and surprising look at a way of life a lot of us are aware of, but mostly choose to ignore.
It's verité filmmaking in the most literal sense of the word, the kind of movie that makes a festival like True/False such a special place to be.