It's ironic that writer/director Chris Ordal's quietly moving "Earthwork" opens its run at Liberty Hall in Lawrence the weekend after Governor Sam Brownback erased the funding for the Kansas Arts Commission, leaving the program with zero budget and no staff or offices.
Shot almost entirely in Kansas and based on the true story of Lawrence, Kan. crop artist Stan Herd, "Earthwork" is a testament to the power within art to bring people together, even in the most unlikely of circumstances. That is summed up in the story, but it also goes for the cast and crew, who pulled together to create a film that looks a lot more expensive than it actually was. (The budget has been reported to be near just $1 million.)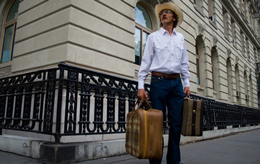 John Hawkes, an Oscar nominee for last year's "Winter's Bone," plays Herd with the kind of stoic determination that the Midwest is known for. The movie absolutely hinges on his performance and he carries the film on his reliable shoulders, even through some of its bumpier moments.
Growing up on a farm in Kansas, Herd is inspired early on and by the time he reaches adulthood, he is gaining some notoriety for turning tracts of land into still-life paintings made of grass, soil, flowers, rock and other natural elements. He's like a landscaper, only you have to be in an airplane or helicopter to be able to fully appreciate his work.
In 1994, Herd heads to New York City to convince Donald Trump's company that he's the right man to build a public art project on a vacant, overgrown acre of land. After winning the proposal solely based on the fact that he requires no funding, Herd finds that the lot isn't quite vacant, and the denizens who have made it their temporary home could become great allies in his endeavor.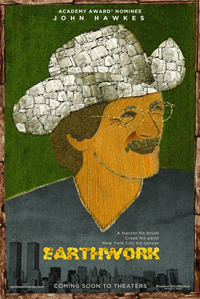 Hawkes is the film's center. He has an expressive and trusting face, and the movie's most genuine moments come slowly and naturally, sometimes without the benefit of much dialogue.
The lot's squatters circle him slowly and suspiciously, sizing him up. After all, this lanky cowboy who keeps moving things around is squatter of sorts as well.
Still, Herd doesn't announce his presence and hold a meet-and-greet, he gets to work. Herd has so much work to do that he sometimes sleeps on the lot, despite having a nearby hotel.
This intriguing group of misfits — a mysterious man with a limp called the Mayor (Zach Grenier), a poet named El-Trac (Sam Greenlee), the silent and angry Lone Wolf (James McDaniel) and a graffiti artist who has been homeless for five years (Chris Bachand) — gradually warm up to him.
A slow kinship and respect develops between them and Herd's unassuming nature helps the audience to reserve judgment as well. The same can't be said for some of the scenes at home with his wife (Laura Kirk), however, which are a little rote and underdeveloped. Although he puts his family at great risk financially, this element of the script is barely explored.
Perhaps if the budget were bigger, Ordal could have added some shots that juxtapose both Herd's art and his laid-back demeanor with that of the Upper West Side, strengthening the film from a visual standpoint.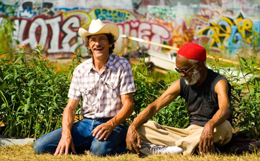 Still, the casual pace of the film and its central conceit get the point across. The ephemerality of Herd's crop art is magnified by the fact that, days after his project is due to be finished, bulldozers will clear out the lot to make way for a skyscraper.
Ultimately, "Earthwork" poses an interesting question. Does the true value of art lie in its creation or the pleasure that others get while viewing it?