"Drive" is probably gonna piss off a lot of casual movie-goers. Like "Fight Club" or "Heat," the veneer that surrounds this film establishes an expectation that is quickly shattered once the film itself starts.
If you're looking for an action piece filled with quick cuts or huge special effects, please stay at home. You'll only ruin the experience for those who went to theater for a movie structured entirely on tone and style, which builds tension slowly and methodically throughout its hour and forty minutes.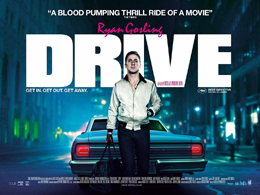 The story in "Drive" couldn't be more straightforward. A stunt driver and wheelman named only Driver (Ryan Gosling) gets caught up in a job-gone-wrong when he breaks his normal code and gets attached to his neighbor Irene (Carey Mulligan), a young mother whose husband's in jail.
This story, though compelling, just gives director Nicolas Winding Refn an excuse to build a powerful visual experience. The opening sequence, which shows a typical job for the Driver, is little more than a Leone-esque devotion to the style of the movie to follow.
Like the spaghetti westerns, there is little need for dialogue. The Driver is a stoic and silent character. Those that surround him say little more than he does. Character is built with a gesture, a small nod, and the way someone blinks or looks away. Words aren't necessary. Refn endows his characters with depth through his use of light and frame.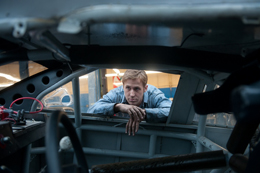 Lighting is used masterfully, with our protagonist falling in and out of rich shadow as he drives through Los Angeles at night, or high-key moments of explosive and often disturbing violence. One must only look for the scorpion emblem on the back of the Driver's signature jacket — the way it is lit — and you can tell whether the next moment will hold some violent outburst or a quick getaway.
Refn's use of long dissolves to transition us from a thoughtful close-up in one scene to a wide-shot in the next is stunning. Faces linger and look over the action that follows. In one particularly memorable example, the Driver contemplates his options once the job has gone wrong. His face in close-up watches over the following shot, which shows him walking down the steps to a strip club. With hammer in hand and at the ready, he walks with purpose towards the confrontation with his pursuers.
Though it takes a back seat to the direction, the acting from the supporting cast is solid. Albert Brooks and Ron Perlman are compelling as West Coast crime bosses, and Bryan Cranston continues his streak of great performances in his role as a mechanic and set-up man for the Driver.
A surprisingly slow and quiet film that is both thoughtful and methodical, "Drive" illustrates Refn's continued development as a contemporary master. I will be pleasantly surprised if "Drive" becomes a hit, but I doubt that it will. A number of people, grumpy that their appetites for lighter fare were not appeased, walked out of the screening I attended.
Its audience may end up being small, but for those of us who count ourselves among its members, "Drive" is a delight.