A good idea is just that, an idea. It may be chock-full of visual potential or hint at the possibility of an engaging story. Even if the idea is fantastic, there is an enormous chasm that stands between that idea and, in this instance, a well-crafted enjoyable feature film.
Jon Favreau falls headlong into this creative chasm with his latest film "Cowboys & Aliens." What began as a comic book, gets changed around and adapted for the big screen, but still everything feels like neither author nor director ever made it beyond the stage during which it was posited, "Wouldn't it be cool if some cowboys fought some aliens?"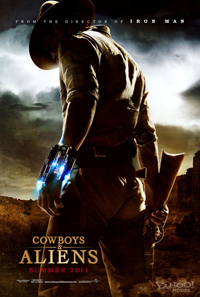 Sure, it might, but we need a bit more than just gimmick. In "Cowboys & Aliens" story and character come too little and too late, and the film is more a one trick pony than a rodeo.
Our rugged protagonist, Jake Lonergan (Daniel Craig), awakes in the Western out back of Arizona. He can't remember who he is or how he came into the possession of the spiffy magical bracelet that's locked on his wrist. Jake stumbles into town and soon discovers that he's a wanted man.
Just as Sheriff John Taggart (Keith Carradine) is about to haul Jake off to the Marshall, a group of alien aircraft swoops in and starts abducting townsfolk and blowing things up. Jake's bracelet springs into action and he shoots down one of the aircraft.
Woodrow Dolarhyde (Harrison Ford), the town's rich curmudgeon, forms a posse that includes the local innkeeper, Doc (Sam Rockwell), and Ella (Olivia Wilde), a strange woman who keeps following Jake. They all ride of off at dawn to kick some alien butt.
That's about the extent of it. You've got your cowboys and your aliens and just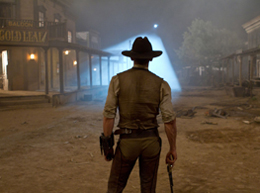 enough setup so they can fight and blow stuff up. Director Favreau and the five writers who crafted the script attempt to cram every film western cliché that you can think of into the two hour run time of "Cowboys & Aliens."
You get the bar fight, which comes with the fiddle player in the corner. There is a run in with a gang of lawbreakers and scoundrels. We meet up with a band of Native Americans, and even get a peyote-infused psychedelic trip. Harrison Ford's character, Dollarhyde, looks more than a little like Ethan Edwards from "The Searchers" complete with his hatred of Indians, as well as the orphaned Native American he took in as a child. The hero has a wolfish feral dog that follows the group around. If they had lifted Daniel Craig into the air by his pierced nipples while performing the Sun Dance, I think they would have covered all the bases.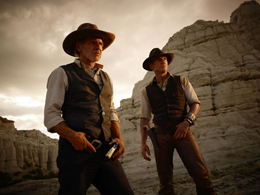 It's a lot of stuff, but it all surrounds a bunch of characters that we don't know very well or feel much attachment for. The story is one we've seen time and time again, alien invasion and subjugation of humans. Though it is neat to see a cowboy jump from a horse on to a spaceship, without any emotional appeal or a compelling story it gets boring after awhile.
If you're desperate to see what it looks like when a bunch of Western settlers get repeatedly blown up by a bunch of armor plated aliens, then you might have to check this one out in the theater. Otherwise "Cowboys & Aliens" just gives moviegoers another ho-hum comic book adaptation in this overwhelmingly mediocre summer.