Stupidity wins the day, as Mater the tow truck (Larry the Cable Guy) gets center stage in Pixar's latest film, "Cars 2." This movie takes on big oil and bungled friendships, while the globe-trotting Lightning McQueen (Owen Wilson) tears up the racing circuit, and Mater finds himself the master of inadvertent espionage.
"Cars 2" opens with a classic Bond tease. Finn McMissle (Michael Caine), a dashing British secret agent, is investigating an enormous secret oil deposit in the middle of the ocean, where a fellow agent recently went missing. With gadgets galore, Finn scales the oil derrick, and collects information on the shadowy organization running the deep sea oil field before escaping in thrilling secret agent fashion.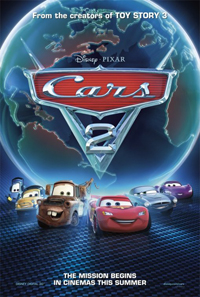 Back in Radiator Springs, McQueen has just returned home from his season of racing, but Mater's loyalty and lack of common sense commit McQueen to one more race. Sir Axelrod's (Eddie Izzard) invitational race is a global event and will promote his new biofuel, Allinol.
Mater invites himself along, but his inexperience with other cultures embarrasses McQueen. When Mater mistakenly yells the wrong commands into his headset, he costs his friend the race. Exiled from the pit crew, Mater finds himself the focus of an international plot to discredit Allinol.
Pixar's newest installment seems to capitalize on the toy market frenzy of the original "Cars." It covers a huge amount of ground, moving quickly out of Radiator Springs and across the globe from Tokyo to Paris, Rome to London.
"Cars 2" fills the screen with an absurd amount of side characters and extras. McQueen has a minor feud with an Italian racecar, Francesco Bernoulli (John Turturro), there is a shadowy organization run by a huge number of classic automobile lemons, we visit the Queen of England, as well as Luigi and Guido's home in Italy. Each of these character filled asides will no doubt bring a boon when even the most obscure cars get made into tiny metal collectibles, but this inundation of disposable characters did little to bolster the film.
It may be crammed full of stuff, but "Cars 2" lacks the heart of other Pixar films. Even the main conflict between Mater and McQueen, feels half-hearted and is too quickly resolved. It seems that director John Lasseter just wanted to see Mater as a bungling super spy, and would do whatever he had to do to get him there. The result is underwhelming.
There are some great small moments and details, most of which occur during transitions or montage. Mater chasing fixed-wing aircraft pigeons, or the countless references to other films in the Pixar canon are all fun, and make the movie something of a motion picture Where's Waldo. B movie legend Bruce Campbell even makes an appearance as a slick American muscle car intelligence agent.
In "Cars 2," Pixar's penchant for cramming the screen full of busy visuals makes more for distraction and does little for character development. The film's focus on Mater as a spy feels too clever, and too constructed. The result is a colorful, yet flat film, which might make an entertaining rental.