In the midst of the summer movie season, comic book movie exhaustion and action overload has started to weigh heavily on me. Do we really need another film about a dude in a crazy suit, who punches other dudes in crazy suits? Isn't there an upper threshold for the number of these films that can be released in one year?
Needless to say my expectations were low, as I sat down to watch "Captain America: The First Avenger," but luckily Joe Johnston and a solid cast of veteran actors provided a movie with some interesting characters and a pretty solid story.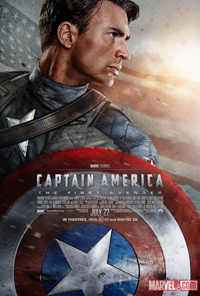 After a brief prologue, which has present day arctic scientists uncovering a huge aircraft and a frozen Captain America (Chris Evans), the story jumps back to the 1940s. A young, skinny, asthmatic Steve Rogers desperately wants to join the Army in order to fight Nazis. Having been bullied all his life, Steve sees the Nazis as bullies on the world stage.
Dr. Abraham Erskine (Stanley Tucci), a German scientist working in New York, approaches Rogers at an expo promoting the war effort. Erskine heads a research division with the goal of creating a super soldier, and he wants Rogers as the subject.
Though Rogers is not the strongest or most fit, his courage and sense of honor impress his drill instructor, Colonel Chester Phillips (Tommy Lee Jones), and the British liaison, Peggy Carter (Hayley Atwell). Rogers undergoes the procedure, and is made into a fit righteous war machine.
The agents of the shadow organization, Hydra, lead by Johann Schmidt, the nefarious Red Skull (Hugo Weaving), break up the party, and Rogers is shuttled around for a while before he gets the opportunity to show what a useful tool he can be for the war effort and dismantling Hydra.
Chris Evans does a good job embodying the desperation and insecurity of the untransformed Rogers. After the transformation, Evans maintains Rogers' sense of longing and desire to do good, and crafts a character that is more than a guy in a funny outfit. Old pros, Hugo Weaving, Tommy Lee Jones, and Stanley Tucci, each turn in believable performances as well.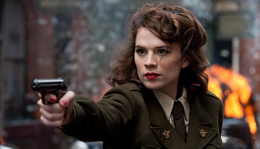 "Captain America" is at its best early on, when the focus is on the characters. Once our hero gets his suit and shield, the film becomes action montage driven and jumps from necessary plot point to necessary plot point. "Captain America" does build just enough emotional development into the first half to carry the second half.
As with most modern movies based on comic books, some of the dialogue is forced and wooden, and most of the action sequences are over processed and fall a little flat. Though on the whole, "Captain America" does make a fun summer diversion, and was a pleasant surprise that alleviated some of my summer movie fatigue.