"Beginners" is impossible to describe in a way that does justice to this oddly sad, oddly funny, and thoroughly enjoyable film from Mike Mills. It does tell the story of a son dealing with the death of two parents from cancer, the homosexuality of his father, and an exciting and troubled romance. In spite of these heavy themes, the film never feels burdensome. With well-placed voice over, striking visuals and even a dog that speaks in subtitles, Mills gives us a film of substance that never pulls any punches and yet remains entertaining throughout.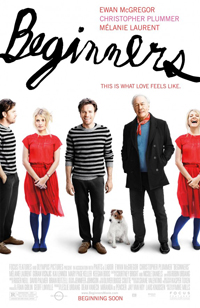 Any description of the plot of Mills' film will do two unfortunate things. First, it will over simplify the content. Mills relies on his visuals to push his story forward. The film is often quiet, but through the mundane and quirky daily interactions of the characters he presents, the story emerges.
Second, and perhaps the more unfortunate, it will make "Beginners" appear unduly weighty, and emotionally unbearable. Let me assure you that this film is nothing of the sort. It is complex, vibrant, often funny, and though melancholy much of the time, it's a melancholy one can enjoy.
With that ample qualification, I'll forge ahead.
"Beginners" is the story of Oliver (Ewan McGregor), a graphic designer in Los Angeles, as he struggles to emotionally reconcile his three most important relationships. When Oliver's mother, Georgia (Mary Page Keller), dies of cancer, Oliver's father, Hal (Christopher Plummer), comes out. Hal no longer wants to be gay in theory, but wants to explore the possibility of a real and vibrant life as a homosexual man. Hal is 75 when he tells Oliver that he is gay. Four years later, Hal dies of cancer.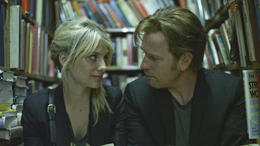 After the death of his father, Oliver, during an on going mourning period, meets Anna, a free-spirited actress (Mélanie Laurent), at a friend's Halloween party. The two form a strong romantic relationship, but both have a tendency to push others away. They must wrestle against their own behaviors in order to explore a lasting love affair.
Though I have given a chronological plot synopsis, Mills bounces back and forth within Oliver's life, from his childhood, to his relationship with Anna, back to his time caring for an ailing father. He does all of this without once confusing the viewer, and allowing each scene to reinforce the scenes that surround it.
The choice to ignore chronological storytelling allows Mills to follow an emotional arc where past events color present moments. It is a satisfying choice because we are given snapshots that explain patterns of behavior. Later decisions are the result of past events, and Oliver and Anna, like each of us, are saddled with a set of emotional constraints that are equal parts genetic, learned, and self-imposed.
Plummer gives an incredible and nuanced performance as Hal. Neither Mills nor Plummer ever allows the character to slip into cliché. Hal is a father, a widowed husband, an elderly man with cancer, and a gay man exploring a part of himself that he has neglected for years. This may be the most well rounded cinematic portrayal of an individual, whose homosexuality is at the center of their character, that I have ever seen. It wouldn't surprise me at all if Plummer gets a nod from the Academy come awards season. Though not quite as captivating as Plummer's portrayal, Ewan McGregor and Mélanie Laurent both turn in excellent performances as Oliver and Anna.
Ultimately, "Beginners" is about the complexities of love and acceptance in their varying forms. Mills crafts a compelling human drama, while avoiding the clichés that could sink his story. With deft direction, and stellar performances, "Beginners" is easily one of my favorite films of the year so far.