For the straightforward action pic "Battle: Los Angeles," director Jonathan Liebesman focuses on a worldwide alien invasion, but he does a couple specific things that make it bearable, if not a complete retread.
First: He tells the story from the point of view of one Marine Staff Sergeant (Aaron Eckhart) and his new platoon as they head out into the fray of a mysterious meteor shower. This keeps the focus narrow in the middle of an enormous event.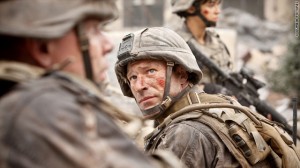 There is a lot of handheld shaky cam work to illustrate the chaotic battle atmosphere as U.S. armed forces heroically charge into battle against what turns out to be spaceships and alien ground troops.
(It's a good thing for action movie fans that alien technology is advanced enough to power giant spaceships and drones but they still need to engage in infantry combat. The movie covers its tracks by making the aliens' mission a colonization.)
What this means is that essentially "Battle: Los Angeles" is a war film on our home turf. That said, it also wallows in every heroic military cliche you can imagine. We get just enough background on Staff Sergeant Michael Nantz and his troops to see friendship connections and get the idea that they are all essentially a bunch of good-natured people. It's easy to root for them.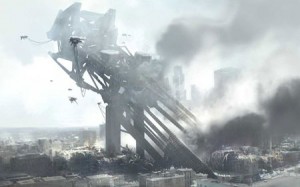 Second: Nantz's personal story sets the theme for the rest of the film. The rumor going around is that Nantz lost an entire platoon in Iraq and that he can't be trusted. Of course, our dimple-chinned, square-jawed modern Kirk Douglas couldn't be to blame. He probably has to much honor to address the rumors personally.
This thread runs through the entirety of "Battle: Los Angeles," and because of the lack of any sort of statement or coherent satire in the screenplay whatsoever, it's the only thing the movie ends up being about. There are so many missed opportunities for interesting sci-fi elements, but this movie isn't interested in that.
It's a military ground war action film, and even that isn't sustainable. It's about 30 minutes too long and has too many remnants of "Independence Day" and "Black Hawk Down."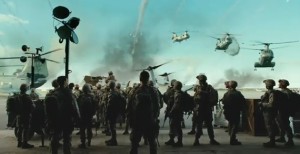 Still, I admire the fact that "Battle: Los Angeles" left out all the obligatory scenes where military leaders explain what's happening at all times and yell at big projected video screens that map out the conflict for us. Keeping it with the platoon was a smart choice, even if it feels like a videogame one too many times.
I can't escape the fact that outside of being an action-packed Marine recruitment film, "Battle: Los Angeles" has absolutely nothing to say. In fact, its hard for me to have much to say about it either, which is why I'm copping out and giving it Scene-Stealers' rarely used "swiss fist" rating. It's complete neutrality.