I have a simple rule of thumb when it comes to discussing and analyzing movies about cancer. Does the film work, is it compelling, if you replace cancer with something else? If the characters still hold your interest, and the situations they find themselves in move us more deeply into the story without the big C, then the film is probably a pretty successful one. If on the other hand you need cancer to lather up the tear-welling moments, then the movie may be therapeutic but it's probably not very well executed.
"Love Story," "Terms of Endearment," and "Stepmom" may offer someone living with cancer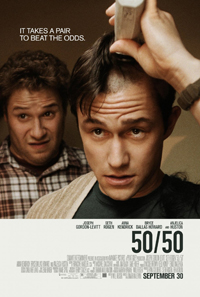 (or more likely someone living with someone living with cancer) some brief solace. Still these films are manufactured and emotionally manipulative. They exploit cancer in order to create fake emotions in the viewer.
Not everything about cancer is unbearably tragic. It can't be. Thousands of people are out there living with cancer all the time, and not every one of them is buckling under the weighty burden or bursting into hysterics. So in that respect it's refreshing to see a funny awkward film about a young guy dealing with a rare form of nerve cancer, but can it measure up to my simple cancer movie rubric?
"50/50" follows Adam (Joseph Gordon-Levitt), a young professional, as he goes about his all-too-ordinary life. He and friend Kyle (Seth Rogen) both work at the local public radio affiliate, and Adam is doing his best to juggle his personal life with his artist girlfriend, Rachael (Bryce Dallas Howard), and his own career. When Adam finally makes time to see his doctor about a lingering ailment, his doctor tells him that he has a rare cancer, which has a roughly fifty percent survival rate.
As he informs each of those closest to him they give varied reactions. Kyle at first freaks out, but then decides that a 50/50 chance isn't really all that bad. Rachael, though we suspect her disloyalty to Adam early on, attempts to recommit and offers her full emotional support, but soon finds the burden too difficult to bear. Adam's mother (Anjelica Huston) gives the over-worried reaction that Adam was expecting, and he begins distancing himself as much as possible from her.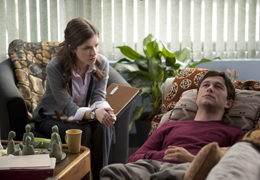 While Adam deals with the awkward and uncomfortable physical realities of his treatment, he gets psychological counseling from a young resident, Katie (Anna Kendrick). Because of their proximity in age, they soon form a strong friendship beyond the normal patient and doctor relationship.
For the most part, it is refreshing to see a comedy that shows some of the absurdity that comes with cancer. Gordon-Levitt and Rogen work well together in their comedy duo pairing. Rogen's character, Kyle, uses his friend's illness to pick up women, while Gordon-Levitt's straight-faced Adam watches Kyle with a mix of half-hearted disapproval and admiration. Howard's performance as the girlfriend is flat, and the onscreen moments between her and Gordon-Levitt always feel stale.
Huston and Kendrick both turn in admirable performances. Huston's concerned mother is compelling and she shows the desperation of someone forced to the sideline while watching a loved one endure a disease and its treatment. Kendrick once again shows surprising depth for her age, and her character of Katie is awkward and sincere.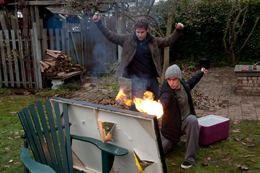 "50/50" does a good job while it stays funny, but many of the moments of drama or dark emotion seem to rely on the viewer's fear of cancer and not a fully developed sense of what each character may be going through. If you were to take out cancer, most of the situations would lack interest and feel unemotional. The film's ending is tacked on and completely unearned.
That said, I welcome a film that shows the funny side of sickness. Characters who laugh, because it does little good to cry are a welcomed relief to the those who look desperately into the camera as the music cues our own manufactured tears. Though it is far from perfect, there is plenty to like about "50/50," and its willingness to break into the cancer comedy (a popular new genre, perhaps?) should garner some applause.