Nick (Jesse Eisenberg), a mild mannered and lead-footed pizza delivery guy, has lost his way. While his friend Chet (Aziz Ansari) has finally landed full time employment as a Jr. High teacher, and Kate (Dilshad Vadsaria), the girl he's in love with and Chet's sister, just got an opportunity that will take her to Atlanta, Nick is stuck smoking pot and delivering pizzas to teenagers. Perhaps Nick just needs a little push to get out of his rut.
Enter Dwayne (Danny McBride), a wealthy man-child, and his sidekick, Travis (Nick Swardson). They concoct a plan to off Dwayne's father and collect his millions, but they need a little seed money to pay the hit man, Chango (Michael Peña). That's when Dwayne and Travis decide to strap a bomb to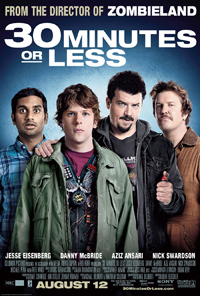 some unwitting stooge and force them to rob a bank.
Now to order that pizza and get the delivery guy into the bomb vest.
"30 Minutes or Less" is director Ruben Fleischer's feature follow up to his directorial debut "Zombieland." Whereas "Zombieland" had some real tension and the viewer always felt like something was at stake, "30 Minutes or Less" always feels flat, in spite of the bomb that Nick continues to flash at us every few minutes.
Nick and Chet's reactions to the bomb are unrealistic. Neither takes the bomb serious enough to make us take the situation seriously, and not once did I feel that the bomb would go off or that Nick was actually in danger.
As Nick and Chet drove around town eating burgers and prepping for their bank robbery, I couldn't help but think of early Marx Brothers or Buster Keaton. Even when those early film stars were dancing around a bomb, never did a viewer actually believe that Harpo or Chico would sustain a lasting injury. The brilliance of those early films were impressively executed sight gags or comedic bits.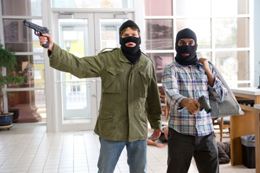 Instead of stunning visual gags strung together by an apparent plot device, in this case Nick's bomb vest, "30 Minutes or Less" just strings together moments of exasperated arm waving from Ansari and Eisenberg, as they discuss Nick's affection for Chet's sister or Nick's parents' divorce years ago.
"30 Minutes or Less" is a hit parade of currently hot comedic actors. McBride brings his usual inept and vulgar character to the screen with Dwayne. Swardson's character Travis is a weird balance of naïve and knowledgeable, and comes with a burdensome amount of sensitivity for a criminal. Chet has much of the arm waving and frenetic interjections of Ansari's Tom Haverford, and Nick, full of mumbling digressions and occasional outbursts, resembles most of Eisenberg's other comedic roles. Only Peña's hilarious Chango gives us a clever break from the expected.
Though there are a number of funny moments, "30 Minutes or Less" is never dark enough to be a truly dark comedy, and never lighthearted enough for light fare.
The main cast is entirely likable, but by allowing each actor to just do their own thing, Fleischer takes away from the story and individual character development. He places too much importance on our predetermined love of Ansari, McBride, or Swardson.
If you like Kenny Powers and Tom Haverford then you'll probably enjoy "30 Minutes or Less." If you've never seen Eastbound, Parks and Rec, or any of Swardson's sketch comedy then you may end up scratching your head at the chuckles around you.