Tired of killing, the world's best mercenary (Jason Statham) calls it quits only to be pulled out of retirement a year later by an oil sheikh (Rodney Afif) who holds one of his oldest friends (Robert De Niro) hostage to make sure Danny takes the job.
It seems a few years back, the British S.A.S. killed three of the sheikh's four sons. Now he wants vengeance before he dies and has chosen Danny to be the instrument of that revenge. In return he'll release his friend and agree to pay Danny and his team (Dominic Purcell, Aden Young) $6,000,000.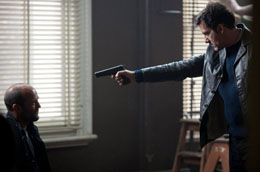 Simple, right? Well it would be if it wasn't for the fact that the Her Majesty's Special Air Service are the best trained soldiers in the world. And if you didn't know that going in the movie will remind you, more than once (except, of course, when our hero needs to dispatch nameless agents with relative ease).
The script uses a very basic action flick cliche to power the story – especially one that is supposedly inspired by real events. Why does our protagonist always have to be the world's best killer/soldier/merc who gets reluctantly pulled into the situation? You know, like this, or say this. Even if the setup isn't all that imaginative, the film from first time writer/director Gary McKendry is actually quite a bit of fun. It's also much more of a cat-and-mouse suspense tale than Statham's more regular cranked-up fare (so to speak).
The script also features a subplot of a burgeoning romance between Danny and a childhood friend (Yvonne Strahovski). Strahovski works quite well as the girl next door and might surprise those who have only seen her as the more glamorous Agent Sara Walker on Chuck. The role also allows her to use her natural Australian accent. She's not given as much to do as I'd like (in many ways she's as much a plot device as a character), but she plays well off of Statham and shares one of the film's best one-on-one scenes with De Niro in a Paris coffee shop (Statham and Owen share the other).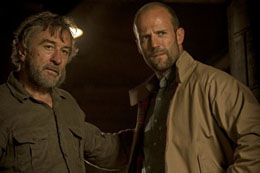 The perspective of the film switches between that of Danny and his team and the secret covert organization known as "The Feathermen" who send their top man (Clive Owen) to prevent the death of any more of their former operatives and keep a lid on past secrets they would prefer never see the light of day.
The planning of the assassinations, and the difficulty that they entail (each requires an admission of guilt and must be made to look like and accident), work quite well. And I've got to mention Dominic Purcell (Prison Break, John Doe) who sports some amazing on-screen facial hair (a Fu Manchu mustache and muttonchops) that's worth the price of admission all by itself.
Killer Elite isn't a great movie. It's at least 10 minutes too long, a couple of the fight sequences are quick-cut jumbled messes (including one where I swear they use a stuntman with a different hair color than that of the actor). However, for a first time big-screen writer/director it succeeds more than it fails. And you get to see Jason Statham and Clive Owen go after each other for a couple hours. For an early Autumn release you could do worse.