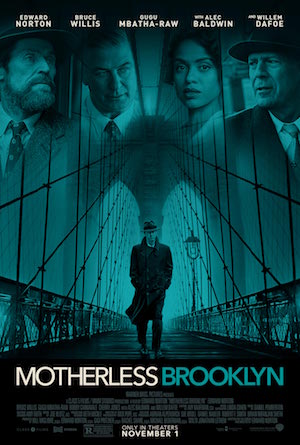 [Rating: Minor Rock Fist Up]

A flugelhorn and upright bass play in the background. Cigarette smoke fills the air in the foreground. A man in a fedora and trench coat walks in silhouette as a voice narrates over the story. This is not some film noir from the 40s. Instead, it's a scene Motherless Brooklyn, a stylized crime neo-noir whodunit film starring, directed, produced, and adapted by Edward Norton from a 1999 novel of the same name. Set in early 1950's New York City, Norton plays Lionel, a sharp private eye with Tourette's Syndrome and a photographic memory. When his mentor Frank Minna, played by Bruce Willis gets too deeply involved in a corruption case, it's up to Lionel to figure out who's behind it and behind Frank's death.
At the root of the corruption case, Alec Baldwin plays Moses Randolph, who is loosely based on the famous New York City "master builder" Robert Moses. He's challenged along the way by a concerned citizen Paul, played by Willem Dafoe, who seems to be one step ahead of what's going on but needs Lionel's help to bring down Randolph. Lionel's investigation leads him to Laura (a great performance by Gugu Mbatha-Raw), a young lawyer and activist who's working to oppose the moves of Randolph but has a more integral role in the whole plot. All the supporting acting performances here shine, such as Lionel's gumshoe coworkers (Bobby Cannavale, Ethan Suplee, and Dallas Roberts), Cherry Jones as the head activist, and Brooklyn's own Michael K. Williams, doing his best Miles Davis impression.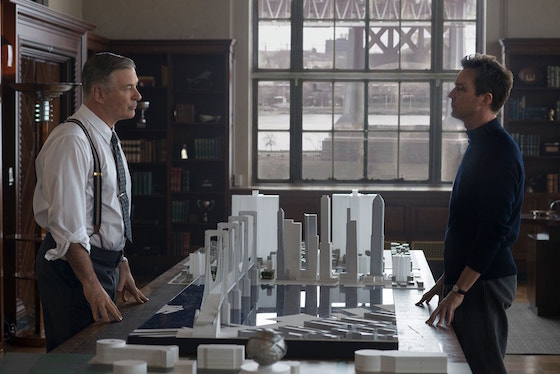 If anything, you can tell that Norton loved the lead character and the way he was originally written. He attempted to make an epic detective story that takes its time (the running time was 144 minutes). He also takes certain departures from the novel in placing the story in the 1950's and adding the Alec Baldwin character. One may have influenced the other in light of the Robert Moses characterization. Though set in the 1950's, Baldwin plays the character with a combination of his menacing Glengarry Glen Ross character and the rancorous traits of his famous SNL political impression, which takes away from the nostalgic aura of the period.
With all the hats that Norton had to wear, I think the task was too daunting and it took away from what this film could've been. Considering he's had the rights to adapt the novel since the early 2000's, the film might've been better executed in the hands of another director.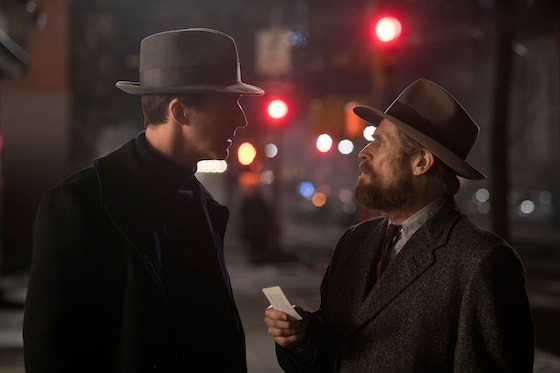 Clichés and running time keep this from being an epic masterpiece. Even the soundtrack, which was good, tried too hard to set a mood, bordering on coming off as trite. It's a good film but that's not enough to make it into the movie it wanted to be. I can see what the film was going for and trying to accomplish. In the end, I don't know if that's a good thing or not.