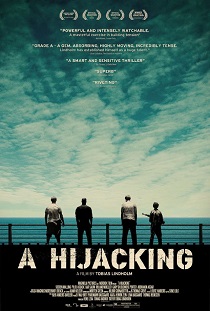 When journalists go into a war zone, they are often described as being "embedded" with the troops. This first-person account of what it's like to be right in the middle of the conflict is supposed to feel more immediate and hit harder than a regular news report.
The Danish import A Hijacking has that embedded feel without being a real-life report or documentary at all. It's a fictional film that hits both with blunt force and a surprising amount of complexity, built around two sides of a terrifying conflict—the hijacking of a cargo ship in the Indian Ocean by Somali pirates.
Pilou Asbæk plays the ship's cook, a decent man whose plans to return home soon to his wife and child are violently interrupted as men with automatic rifles take the tanker hostage and begin barking orders in a language he can't understand. Since he's the one who feeds people, he ends up being the point man for much of the chaotic interaction with his captors—even though he holds no real power.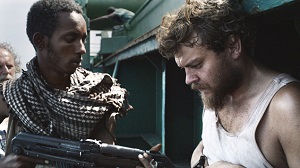 In addition to being our conduit for the hijacking, the cook serves as the human face of the conflict for the company's CEO (Søren Malling), who immediately gains our sympathy by refusing to turn ransom negotiations over to someone else, and is immediately faced with situations that would bring anyone to their knees. Nobody wants to take responsibility, not even the pirates' translator (Abdihakin Asgar), who does all the negotiating on their side, but maintains that he is not of them.
A Hijacking is a relentlessly tense picture, made all the more remarkable by the fact that it doesn't even include the actual hijacking itself which would be a natural scene to exploit for maximum suspense. There's no plan to escape, no heroic coup afoot—just the plight of humiliated men struggling to stay alive for months on end.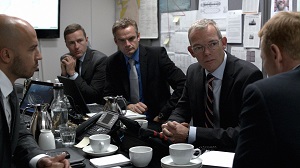 Although the movie is not built from one specific real-life incident, the ship portrayed in the film was actually hijacked under similar circumstances in 2007. Some of the crew members from the actual MV Rosen appear in the film, and the hostage negotiator in the movie was played by another non-actor, who is an actual negotiator.
Writer/director Tobias Lindholm is a writer on the acclaimed Danish political TV drama Borgen and he co-scripted the Cannes sensation The Hunt, opening this month in America.  He's one of the artists at the forefront of a new wave of dark Scandinavian drama and A Hijacking is his directorial debut. Lindholm already displays a keen eye for lean, naturalistic storytelling without easy moralization. A Hijacking builds drama without a musical score and employs handheld cinematography to startling effect, without all the shaky-cam pitfalls usually associated with that style.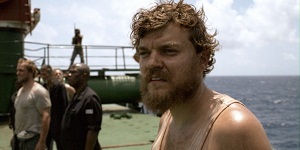 Ultimately, A Hijacking demands that its audience do the heavy lifting. Is it possible to be reasonable about completely unreasonable circumstances?  How impossible can a situation like this get? The long-term waiting game played by both sides to achieve a mutually acceptable outcome is brutal, wearing down the will of all involved. It's also absurd, especially the way that it finally comes to an end.
Lindholm's last shot finally gives away which side of the fence he's on, but it really does feel like the only bit of editorializing in the entire film.  A Hijacking is otherwise very subtle— and surprisingly deep and character-driven for a suspense thriller. Its power comes not only from the constant feeling of dread, but in its refusal to offer up easy answers.
A Hijacking opens today at the Tivoli Cinemas in Westport.