Warren Cantrell reviews the new Wes Anderson film from the 2012 Seattle International Film Festival: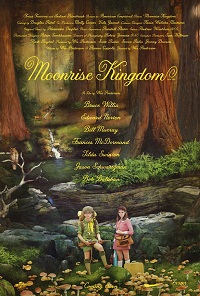 There's a delicate and altogether fragile characteristic that director Wes Anderson brings to his work.  The leads in his films all seem to have a universal vulnerability similar to what's found in a child, one whose posturing and haughty arrogance masks a host of insecurities bubbling just beneath the surface.  Whether it's Dignan, Max Fisher, Richie Tenenbaum, Steve Zissou, or Suzy and Sam from Anderson's newest picture, Moonrise Kingdom, they're all characters yearning for a place or sense of purpose in a confusing world passing them by.
In the case of Rushmore and Moonrise Kingdom, the main characters really are children, yet possess a level of maturity and solemn purpose that largely outdistances their adult counterparts.  Indeed, in the latter picture, there are a number of scenes showing adults bickering and fighting like 6th graders whilst the pre-teens look on in disbelief, their mature eyes downcast and lathered in shame.  The kids in Moonrise Kingdom speak like adults, and carry themselves as such; they form search parties, brandish weapons, beach-dance, elope, marry, and kidney stab those who get in their way.
Yet, as is the case with most Wes Anderson fare, it's all unavoidably and irresistibly charming.  Nominally about a pair of 12-year-olds who fall in love and decide to run away together, Moonrise Kingdom is actually more of a voyage into the purest recesses of the human spirit.  The film is a reminder of the most important things in life: those priorities that somehow get washed away some time between adolescence and adulthood.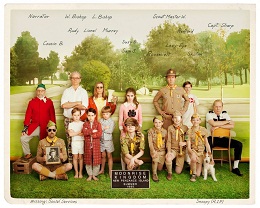 The acting troupe Anderson has assembled for this piece is nothing short of spectacular: Frances McDormand, Edward Norton, Harvey Keitel, Tilda Swinton, Bill Murray, Jason Schwartzman, and Bruce Willis are just some of the names to be found in the credits.  As is always the case with the director's work, the actors inhabit an exceedingly peculiar, somewhat self-sustaining universe with very particular wardrobe and color schemes unique to that film.  This allows each of the characters room enough to find their own little pocket to stretch out and discover a distinct voice, something each does with aplomb.
With the possible exception of Murray, whose dialogue exchanges come off as a bit flat in a few scenes, every actor seems to have wrapped their arms around their role in a jealous expression of loving affection for that part.  And while the male characters, like Ed Norton's Scout…er-Khaki Master Ward and Willis' Cpt. Sharp, certainly craft memorable, amiable portraits, some of the most touching work comes from the female cast.  McDormand's outwardly callous yet emotionally fractured matriarch is idiosyncratic and identifiable all at once, and Swinton's "Social Services" comes off as an exercise in acting perfection (in the film, she never offers a name and is content to be referred to by her employable function).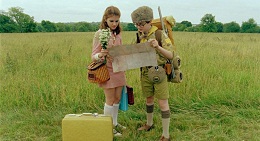 Ultimately, however, the movie belongs to its leads, first-timers Kara Hayward (Suzy) and Jared Gilman (Sam), who have once again demonstrated Wes Anderson's astonishing talent for spotting and developing young acting talent.  Much like Jason Schwartzman's Max in Rushmore, Sam and Suzy are mature and smart enough to understand just what it is they want (requited love), yet suffer from a level of immaturity that prevents them from realizing their dream.  Stupid kids that they are, they plow bravely forward into the unknown, a gut-wrenching naïveté made all the more painful to audiences who remember what it was to possess hope so virgin and pure, hope long-since abandoned.
This thematic anchor to Anderson's previous work is made all the more striking by Jason Schwartzman's appearance in Moonrise Kingdom roughly a decade and a half after that actor's turn in Rushmore.  Though not a reprisal of the Fisher character, Schwartzman's performance in Moonrise Kingdom as a sympathetic, older Khaki Scout helping out a couple of love-struck kids brings an inevitable warmth to the heart of any Wes Anderson fan, for it's as if an old friend from the past has reemerged to help out new, familiar companions.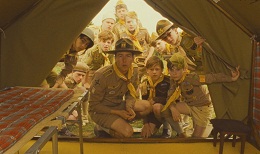 Set on a fictional, well-to-do east coast island during the fall of 1965, the film follows Sam, Suzy, and the frantic search party that organizes to look for the pair after their joint escape.  If this was a film about adults, or even teenagers running off together, there would have been a significant crisis of faith between the love-struck pair: a moment where they realized the foolishness of their impulsive flight.  Yet this isn't what Moonrise Kingdom is about, for rather than a tired re-tread of the classic/tragic young-love fable, Anderson hands his story over to a pair of startlingly perceptive pre-teens who know nothing about love, and still somehow discover the very best that that idea has to offer.
Long-since labeled "disturbed" or "troubled" by adults, Sam and Suzy find in each other a soul mate, a true better-half.  Without friends or even family members to rely upon, Sam and Suzy have only each other: a truly tender realization made all the more powerful by the shared vulnerability of each.  As is the case with the rest of Wes Anderson's directing catalogue, Moonrise Kingdom nurtures the fantastic, the precious.  It is content to simply tell a heart-warming story that does little except awaken those portions of its audience's soul which have abandoned the optimistic endurance of youth.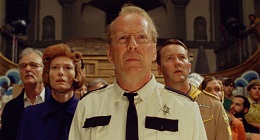 The dry, sudden humor of Anderson's previous work is all here, and in spades: some of the most memorable moments coming from Bill Murray, who makes up for his dialogue deficiencies with a few hysterically silent moments (his chopping down of a tree to relieve depression is absolutely brilliant).  As luscious and visually rich as anything Wes Anderson has offered, Moonrise Kingdom should be considered required-viewing for fans of the director, and a pleasant trip through the best portions of childhood for all those merely looking to escape the realities of an adult life far too laborious.
Currently playing at this year's Seattle International Film Festival, and opening in limited release today, May 25, Moonrise Kingdom is a getaway well worth the trip.