With a clear-cut, no-nonsense title like "Monsters Vs. Aliens," the new DreamWorks animated spectacle (shown in many theaters in eye-popping 3D) tells you exactly what it's going to be. Yet so did "Snakes on a Plane," and somehow that movie managed to disappoint as well.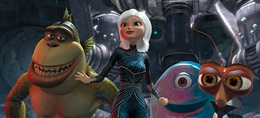 The DreamWorks factory makes fast-paced kids' films with just enough pop culture references to keep adults in the game. Or at least it's supposed to. "Monsters Vs. Aliens" is directed by two veterans of the studio, Rob Letterman ("Shark Tale") and Conrad Vernon ("Shrek 2"), so they know the rules. Especially in a movie that itself is a parody of classic sci-fi and monster flicks, you know there will be tons of homages.
There's the Godzilla/Mothra-sized Insectosaurus, the brainy Dr. Cockroach ("The Fly"), the super-sized Ginormica ("Attack of the 50 Foot Woman"), half-fish/half-ape the Missing Link ("King Kong," "The Creature From the Black Lagoon"), and a brainless gelatinous mass called B.O.B. ("The Blob"). Then there's the alien invasion ("The Day the Earth Stood Still"), an attempt at contact ("Close Encounters of the Third Kind"), and blowhard military types ("Dr. Strangelove"). Man, this movie sounds like a lot of fun!
Somehow, it's not. It's actually a lot of work to get through. Everybody seems to be trying way too hard.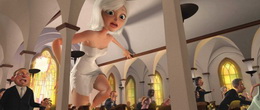 The main "girl-power" thrust of the story is so forced that it just wears you down, and Reese Witherspoon—one of many talented voice actors who's wasted in this one-note joke of a movie—doesn't have a lot to work with from the start. (Although I'll bet she'd probably make this user-submitted list of Top 10 Giant Women) Like a good 1950s housewife, Susan (as she's called before accident) wants nothing more than to stand by her man, a cheesy TV weather guy, until he rises to the top of his profession. But on their wedding day, a meteor's radiation causes her grow enormously, and the U.S. military whisks her off to a hidden location where she is immediately imprisoned.
That is, until her country decides to let her and her fellow "monsters" out of super-secret lock-up to save the U.S. from a hostile alien invasion. Of course, Susan (now known as Ginormica) and her new pals are game, and gleefully stand up for the country despite also having been put behind bars by them.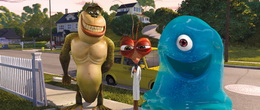 This wouldn't be such an inconceivable turnaround had the film not just spent a huge amount of time showing us how inhumanely the government treated the monsters, leaving them in steel-encased, barren rooms. Susan's despair at being locked up is matched only by the enthusiasm that she throws all of a sudden into being a giant, empowered woman. Since her character is so surprisingly flat, the movie justambles along, although it does so loudly and with a lot of inconsequential action.
The screenplay, credited (amazingly) to five different people, is lazy as hell. The monsters get out, have doubts, get their groove back, and kick some ass. A nice outline, I suppose, but there's no reason to care about any of it. A movie this obvious and uninvolving (especially one that announces its intentions in the title) might have still gotten by with lots of funny jokes and state-of-the-art 3D effects. Unfortunately, "Monsters Vs. Aliens" has only the 3D to fall back on and, at a certain point, being bludgeoned to death by 3D actually begins to numb the mind.
Seth Rogen, however, escapes virtually unscathed, since the movie is so devoid of funny moments that when his giant blob B.O.B. does open its mouth, you know you are guaranteed at least a chuckle. What is the movie's excuse then for wasting the talents of Paul Rudd, Hugh Laurie, Will Arnett, Kiefer Sutherland, Rainn Wilson, and Stephen Colbert?
"It's called 'Monsters Vs. Aliens,' and it's a kids' movie, man…, c'mon."
Yes it is. Not an excuse. It's a severely dull, by-the-books affair that still fails to entertain despite lowered expectations. And if it's not even 3D where your theater is playing it, I really wouldn't go see the flat version. It's flat enough in 3D.